The North American League of Legends Championship Series (LCS) is experiencing a significant shift, with an emphasis on homegrown talent over imported players. The 2024 season promises an influx of North American rookies, indicating a new direction for the league.
The Incoming Surge of NA Talent
Several promising North American players are reportedly set to make their LCS debuts in 2024. This includes high-profile prospects like:
Meech
Sniper
Srtty
Tomio
Sheiden
Massu
eXyu
These players joining top-tier LCS teams signify a hopeful future for the region, which has long been criticized for its reliance on imported talent.
Key Rookie Highlights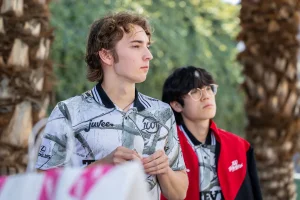 Meech is reportedly joining 100 Thieves, stepping in for the veteran Doublelift.
Sniper, a top lane prodigy, is being promoted to replace Ssumday on the main roster.
Srtty and Sheiden are set to bolster Evil Geniuses' lineup, with Sheiden transitioning to a full-time role.
Tomio joins Shopify Rebellion, Massu steps up for FlyQuest, and eXyu is debuting with Team Dignitas.
Impact on the LCS Landscape
This influx of rookie talent is expected to revitalize the LCS, especially with veterans like Darshan stepping back. These new faces bring fresh enthusiasm and potential to the league, addressing the long-standing debate over the dominance of imported players in North American teams.
Financial Considerations and Esports Winter
The shift towards rookies may also reflect the league's financial constraints amidst the "esports winter." With teams like TSM, Counter Logic Gaming, and KOI facing economic challenges, recruiting rookies offers a cost-effective strategy. This approach enables teams to maintain competitive rosters while investing in potential future stars.
Shifting Trends in the LCS
The 2024 LCS season is shaping up to be a pivotal moment in North American League of Legends esports. The emergence of rookie talent not only promises a competitive rejuvenation but also symbolizes a strategic shift in team compositions and financial planning.
Fans and stakeholders alike will be keen to see how these rookies fare on the big stage, potentially heralding a new era for the LCS.