KT Rolster, a prominent name in the world of League of Legends esports, clinched their spot in the quarterfinals of Worlds 2023, outperforming DPlus KIA in a 2-0 series. This victory dashed the hopes of Deft, the acclaimed player, from holding onto his championship crown.
Intense Beginnings and Game-Changing Moves
Initiating the last matchups before the quarterfinals, the face-off between KT Rolster and DPlus KIA was much-anticipated. The outcome would determine the fate of an LCK representative in the global championship. The elimination of DPlus KIA wasn't just a wrap for their season, but a crushing blow for Kim "Deft" Hyuk-kyu's championship dreams.
The first game started with cautious plays from both sides, emphasizing scaling strategies. The first significant move only emerged around the 15-minute mark. DPlus KIA, under the efficient leadership of Heo "ShowMaker" Su, secured the Hextech Soul, giving them an early advantage. Yet, KT Rolster demonstrated resilience, pulling a commendable turnaround at the Baron Nashor, eventually leading to their 1-0 lead after a second extermination.
Game Two: Turning the Tables
The second match saw early engagements, with both sides vying for dominance and map control. Highlight plays were frequent, particularly from the ADCs. A pivotal moment arose near Nashor when ShowMaker's initiation went awry. This error enabled KT Rolster to gain a significant advantage, which they expanded upon, even though Kim "Canyon" Geon-bu delayed their victory momentarily. However, DPlus KIA couldn't regain their footing. A conclusive team fight for the Mountain Soul sealed their fate.
The Legacy of the Champions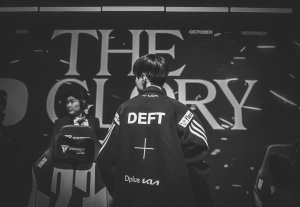 The reigning champions faced multiple challenges this season. Post their departure from DRX, three out of their five primary roster failed to qualify for the world championship. Both Hwang "Kingen" Seong-hoon and Kim "Zeka" Geon-woo transitioned to Hanwha Life Esports, while Cho "BeryL" Geon-hee remained loyal to DPlus KIA. Neither team could breach through the LCK's qualifying phase.
The Lone Warrior: Deft
With Team Liquid's Hong "Pyosik" Chang-hyeon already out, Deft was the last beacon of hope. His impressive performance during the series was undeniable, but it wasn't enough to clinch the win for DPlus KIA. Interestingly, they became the first Korean team to bid adieu to Worlds 2023.
After their loss against @KTRolster_tw, @DplusKIA are out of #Worlds2023. pic.twitter.com/Srf6wjzobh

— LoL Esports (@lolesports) October 29, 2023
Looking Forward
KT Rolster now sets their sights on their next formidable opponent, JD Gaming, one of the favorites tipped to clinch this year's championship.
New Kings are on the Way
KT Rolster's journey in League of Legends Worlds 2023 embodies resilience, strategy, and the hunger to succeed. As they gear up for their semi-final face-off, the world will watch, anticipating every move. DPlus KIA's departure, though saddening, reminds us of the sheer unpredictability and competitiveness of the international arena.