Trainwreck, a prominent figure in the streaming world, has set the community abuzz with his latest announcement. On Nov. 14, he hinted at upcoming signings for Kick that could potentially transform the streaming landscape.
The Potential Impact of New Signings
According to Trainwreck, these new additions to Kick are expected to "devastate the industry" and foster a "natural ecosystem of viewership." This strategy seems to focus on uplifting small to midsize creators, indicating a broader plan to bolster the platform's growth and community.
SCUFFED Podcast's Return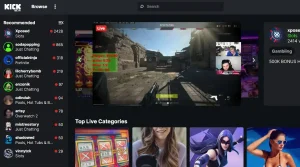 Adding to the excitement, Trainwreck announced the comeback of the SCUFFED Podcast, a significant draw for the platform, which he has intermittently hosted since 2019.
Kick's Growing Influence
Kick has been strategically signing Twitch streamers to challenge the dominance of Twitch and YouTube in the streaming arena. Their high-profile signings, including xQc and NICKMERCS, along with other popular streamers like Adin Ross, Amouranth, and YouRAGE, have solidified its position as a formidable competitor.
Future Prospects for Kick
With its aggressive signing strategy, Kick is positioning itself as a leading choice for top-tier as well as emerging streamers. The anticipation of who might be next to join Kick is high. Speculations are rife, with names like Dr Disrespect being floated as potential big signings.
when i return, the SCUFFED Podcast is returning with me, along with a $100K USD CS2 case opening.

until then, expect some signings that will devastate the industry & assist in creating a natural eco-system of viewership to help *hardworking* small-mid size creators grow.

— Trainwreck (@Trainwreckstv) November 14, 2023
Twitch's Rule Changes and Dr Disrespect
The speculation is heightened by Twitch's recent rule changes, which open the door for Dr Disrespect to potentially return after an unexplained ban. The streaming community is eager to see whether he stays with YouTube, returns to Twitch, or makes a move to Kick.
Looking Ahead: The Streaming Landscape's New Era
Trainwreck's revelations about Kick's plans have set the stage for significant shifts in the streaming industry. As the community awaits these developments, all eyes are on Train and Kick to see how their next moves will reshape the streaming world.