Heroic has recently made waves in the Counter-Strike community with their unexpected and controversial roster changes. Their announcement not only surprised fans but also sparked a whirlwind of reactions among prominent figures in the CS scene.
Heroic's Controversial Statement
In a turn of events that left many stunned, Heroic announced that players Jabbi and stavn seemingly pressured the organization into ousting cadiaN. Further adding to the shock, they expressed their intent to join the renowned team, Astralis. While Heroic expressed a desire to keep both stavn and jabbi onboard, there were rumors circulating about cadiaN's potential move to Team Liquid.
This level of transparency from a major CS team like Heroic isn't common, and as expected, the community had a lot to say about it.
Community Reactions
Aleksandar "kassad" Trifunovic, a respected figure in the CS community, didn't mince words about the situation. He took to Twitter asking if this might be "the biggest snake move ever," pointing fingers squarely at stavn and jabbi. On the other hand, YNk lauded Heroic's open approach, stating he appreciated the team's candor, giving fans an insight into the situation, albeit from Heroic's perspective.
Heroic's Immediate Future
In the wake of this upheaval, Heroic has secured stand-ins from MOUZ NXT for the upcoming Roobet Cup. Additionally, René "TeSeS" Madsen, Rasmus "sjuush" Beck, and the legendary newcomer, dupreeh, are gearing up to play for the team.
Yet, the burning question remains: Where does Heroic go from here? With Astralis seemingly dipping into Heroic's pool of talent, a pattern that's been observed before, the future looks uncertain.
The Challenge Ahead
With significant tournaments in CS2 on the horizon, Heroic faces critical decisions. Do they hold onto two players who seemingly wish to depart? Or do they venture out to scout high-impact free agents? Time is of the essence, especially given the rumored disbandment of powerhouse teams like the FaZe Clan and Team Vitality, which leaves a plethora of skilled players in the market.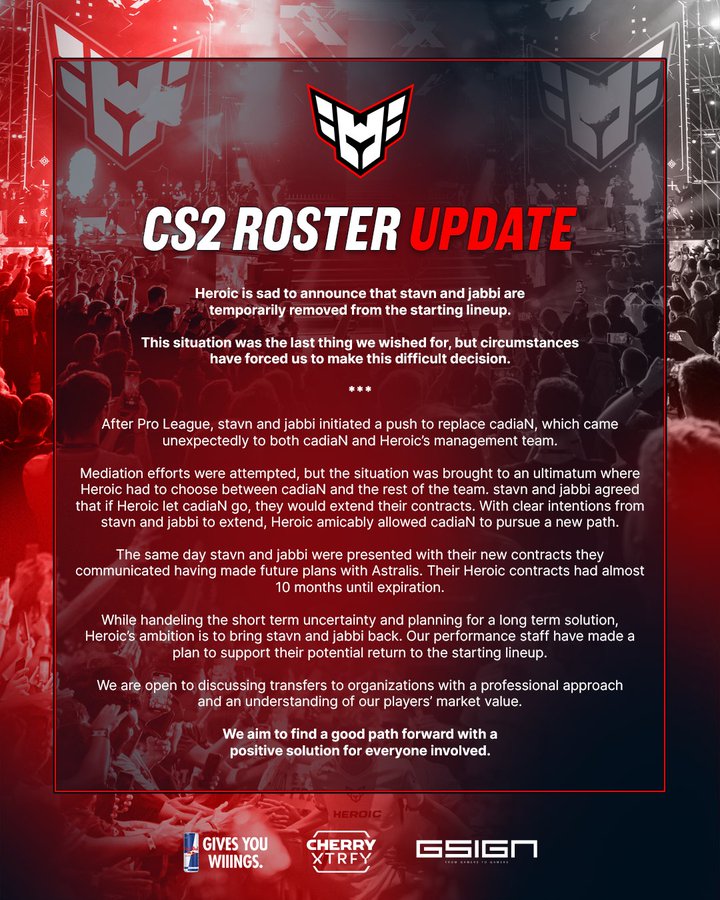 Heroic stands at a crossroads, and their choices in the coming weeks will likely shape their future trajectory in the Counter-Strike world. Fans and analysts will be closely watching the next steps of this storied organization.