FaZe Clan Takes the Crown
In the competitive realm of esports, Halo has always stood out as a quintessential title. The 2023 Halo World Championship (HWC) was no exception, securing its spot as the second most-watched event in Halo's storied history. FaZe Clan, a powerhouse in the esports arena, emerged triumphant, clinching the victory and a hefty prize of $400,000, leaving their mark in the annals of Halo championships.
Viewership Metrics: An Analytical Insight
This year's HWC showcased 16 formidable teams, all vying for their share of the $1M jackpot. With all LAN events held in the United States, the stage was set for a riveting showdown. According to the data provided by Esports Charts, the event drew an impressive peak of 159,787 viewers, with an average viewership of 74,468 across its 28-hour span.
While this year's event was monumental, the HCS Kickoff Major Raleigh in 2021 still holds the record, boasting a peak of 267,279 viewers and nearly 37 hours of broadcast time.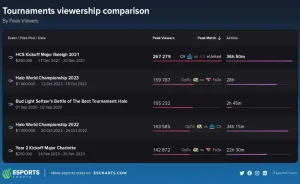 Growth Trajectory: Halo's Ascendancy in Esports
When juxtaposed with the 2022 HWC, this year's edition exhibited promising signs of an ascending trajectory for Halo esports. Notably, there was an 11.2% spike in peak viewership, while the average viewership surged by a staggering 33.5%. With Twitch being the most favored platform and English the dominant language, the global outreach of the championship was indisputable.
Anticipation for 2024 and Beyond
As the dust settled on the 2023 event, the Halo Championship Series (HCS) made an exhilarating announcement: the Halo esports circuit will make a resounding comeback in 2024. Details about the prizes, partnering teams, and event venues remain shrouded in mystery for now. This consistent year-over-year growth is a beacon of optimism for participating teams and legions of fans dedicated to this iconic shooter.
The Future of Halo Esports
The 2023 HWC not only solidified Halo's position in the esports echelon but also highlighted the exponential growth potential of such events. The blend of thrilling gameplay, intense rivalries, and global viewership creates an electric atmosphere, drawing more fans into its fold. With the anticipation building for 2024, one can only speculate the heights Halo esports will achieve in the years to come.