A Landmark Anniversary
Half-Life, the flagship FPS game that catapulted Valve into the gaming market limelight, marks a historic moment on its 25th anniversary on Steam. This game not only played a pivotal role in Valve's rise but also significantly influenced the creation of Steam.
Record-Breaking Player Count
According to SteamCharts, Half-Life reached a peak of approximately 1,000 simultaneous players, the highest since its mid-2006 release on the platform. This surge surpasses the previous high in August 2022, when a community-led event rejuvenated the game with 10,000 concurrent players.
Factors Driving the Surge
Free Access: For the first time since its launch, Half-Life became available for free on Steam from November 16th, breaking the record set last year.
25th Anniversary Content Pack: This pack is credited with drawing in both new players and veterans. It includes a mini-campaign originally used as a demo, new maps, skins for multiplayer, and numerous technical fixes. The last major update before this was in August 2020, focusing on system stability improvements.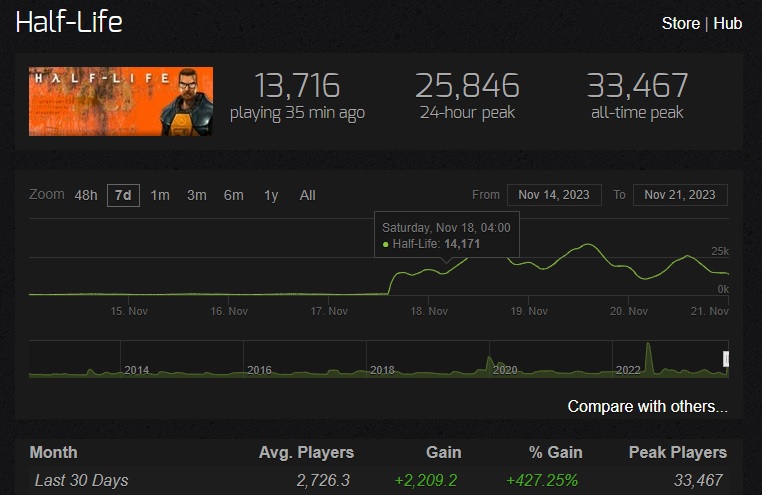 Limited-Time Free Access
With only a few hours left for Half-Life to remain free on Steam, players have a golden opportunity to revisit or experience a game that redefined storytelling in video gaming. They can engage in frenetic action on classic maps like Bounce or Crossfire, or explore fresh terrains like a Xen-themed environment or the Pool Party map featuring a health-regenerating pool.
"Half-Life's 25-Year Legacy: Enduring Appeal on Steam"
Half-Life's resurgence on Steam, two and a half decades after its release, highlights the enduring appeal of classic games. It's a testament to how innovative gameplay and compelling storytelling can create a lasting legacy in the gaming world.