Gran Turismo 7, the iconic racing simulator available on PlayStation 5 and PlayStation 4, is gearing up for a monumental update this week. Spearheaded by producer Kazunori Yamauchi, this is poised to be the game's most extensive free update since its launch.
New Vehicles Racing to the Game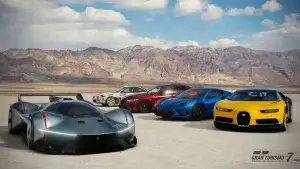 Eager fans were teased with the silhouettes of seven vehicles. These additions won't cost players a penny and promise to enhance the already expansive car roster. The freshly included vehicles are:
Lexus LFA '10
Dodge Challenger SRT Demon '18
NISMO 400R '96
Mercedes-Benz 190 E 2.5 – 16 Evolution II '91
Dodge Charger RT 426 Street Hemi '68
Porsche 911 (992) GT3 RS '22
Tesla Motors Model 3 Performance '23
These cars span various eras and styles, offering something for every enthusiast.
Speculations on Additional Content
While Yamauchi's hints primarily revolved around the cars, the grapevine has been buzzing with other potential features. If we were to gauge by the most notable update – version 1.29 from February – we saw additions such as PlayStation VR2 compatibility, five new vehicles, an extra track, and a limited trial period for Gran Turismo Sophy, the game's cutting-edge artificial intelligence.
With that backdrop, there are high hopes for the official launch of competitions featuring Sophy, perhaps even specific single-player mode challenges. Plus, the return of classic circuits or a brand-new one that might spotlight the finale of the GT World Series, taking place in Barcelona from December 1-3, shouldn't be ruled out.
A big update is coming next week.
来週、大型アップデート来ます。 #GT7 pic.twitter.com/G3PNDb3wno

— 山内 一典 (@Kaz_Yamauchi) October 29, 2023
Anticipated Release Date
While the exact date remains under wraps, history suggests that Polyphony Digital has a penchant for releasing content on Thursdays. So, circle November 2nd on your calendars, racers.
Mark Your Calendar!
For Gran Turismo esports aficionados, this update is a testament to the game's continued growth and commitment to enhancing player experience. Whether you're in it for the new vehicles or awaiting surprise features, it's an exciting time for the GT community. Stay tuned and keep those engines revved!