Fans of the LEC (League of Legends European Championship) ecosystem might be on the edge of their seats due to recent leaks and rumors circulating in the community. With the potential inclusion of heavyweights such as Giants, Movistar Riders, and Karmine Corp, LEC 2024 might witness a revolution.
Rumors Take Shape
Belgian journalist known as Wooloo has been at the forefront of these rumors, leaving the community buzzing with his typical hint map. According to him, some of the LEC's main organizations might merge, bringing new faces into the competition.
Karmine Corp Takes the Lead
Out of all the rumored teams, Karmine Corp seems to be the most likely to secure a spot in the LEC, even backed up by statements from its own owner. However, as with all rumors, they should be taken with a grain of skepticism until there's official confirmation.
#LEC pic.twitter.com/SZgmwzqGhH

— LEC Wooloo (@LEC_Wooloo) October 5, 2023
The Role of LEC Wooloo
The international League of Legends community is always on the lookout for statements from LEC Wooloo. Not because they discredit the work of other reporters but because he tends to release information that usually turns out accurate. And if his latest leaks turn out to be true, the changes in the LEC will be significant.
MAD Lions and Movistar Riders are first on Wooloo's list, supposedly announcing their agreement on November 29th. An unexpected yet promising combination. For the Spanish community, this would be a monumental move. Imagine the merging of talents like Elyoya, Melzhet, and Supa. However, the Operation Gunter is also not to be overlooked.
Excel and Giants are other teams that might merge. Giants, with its legacy in the Superliga and its previous experience in the European LCS, promises to raise the competition's standard.
Lastly, Astralis might share a spot with Karmine Corp, adding a massive French fanbase to the LEC.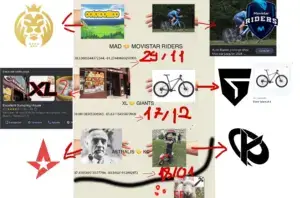 What do you Think?
While these leaks and rumors have caused a stir in the community, it's essential not to take anything for granted until there are official confirmations. The League of Legends esports on LEC has always been full of surprises, and 2024 might have many more in store for fans.