The landscape of Massive Multiplayer Online (MMO) games is about to be reshaped with the introduction of Ghost, a modernized fantasy MMORPG. This ambitious project is spearheaded by the newly-formed Fantastic Pixel Castle studio, driven by illustrious veterans of the gaming industry.
The Brainchild of Veteran Developers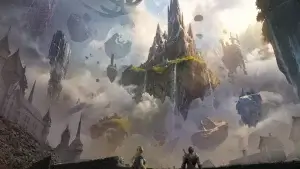 Fantastic Pixel Castle has assembled an enviable team of developers, with the likes of Greg "Ghostcrawler" Street at the helm. Street's storied career spans across titanic franchises like Age of Empires, World of Warcraft, and League of Legends. Alongside him, talents such as Bart Tiongson and Brian Holinka, with credits including Halo Wars and World of Warcraft, bring a wealth of experience to this new venture.
A Modern Spin on Classic MMOs
Ghost promises to revitalize the MMO genre with a dual shard system that caters to different player preferences. Blue Shards will emphasize social and community aspects, while Red Shards will focus on more traditional MMO elements like open-world combat and PvP. This innovative approach ensures that Ghost will be both alt-friendly and appealing to the hardcore raider, without the necessity of endless grinding.
Community at the Core
The development philosophy behind Ghost is player-centric. "Partnering with players" signifies Fantastic Pixel Castle's commitment to engage with its audience actively, promising a more inclusive development process. They extend this approach to their company culture as well, aiming to make game development a joyful experience for their team.
My name is Greg. Until this year I worked at Riot Games and before that, Blizzard. But I have a new studio stacked with industry veterans, and we are about to announce, in an unconventional way, both it AND our new MMORPG. Because we want to be an unconventional studio.

— Greg Street (@Ghostcrawler) October 31, 2023
Ghostcrawler's New Vision
The anticipation surrounding Ghost is significantly amplified by Greg Street's involvement. Known for his impactful roles and influential game design philosophy, Street's departure from Riot Games and subsequent spearheading of Ghost hint at a fresh and exciting direction for the genre.
Stay Tuned for More
Further details on Ghost will be unveiled in an upcoming live stream on November 8. Eager fans can tune in to twitch.tv/fantasticpixelcastle for what promises to be a groundbreaking reveal.
Hello! 👋

We are Fantastic Pixel Castle, a new games studio making an epic AAA MMORPG codenamed Ghost.

To learn more about our studio and vision for Ghost, visit our website at https://t.co/34jbooP5JE.

1/3 pic.twitter.com/ZdGYJABs23

— Fantastic Pixel Castle (@FPCStudio) November 2, 2023
Not Just Another MMORPG!
For MMO aficionados, the announcement of Ghost is not just another game reveal—it's a harbinger of the genre's evolution. It embodies the collective aspirations of its legendary creators and the hopes of a community yearning for an MMO that feels both new and nostalgic.
The coming days are crucial as we await the live stream that will give us a glimpse into what could very well be the next milestone in MMO gaming.