The ever-evolving world of Genshin Impact never ceases to surprise its fans with fresh content, captivating storylines, and of course, new characters. One such character generating significant buzz is Clorinde. Let's dive deep into everything we've gathered so far about this enigmatic new figure.
Fontaine's New Faces
With the teaser titled "Festejando el gran final", anticipation reached its peak as it showcased a multitude of characters set to debut alongside the Fontaine region. Though the exact timeline remains shrouded in mystery, what's clear is that all the introduced characters will soon become playable. Out of the bunch, Clorinde, alongside Arlecchino, Furina, and Navia, has undoubtedly garnered the most attention.
Clorinde's Elemental Vision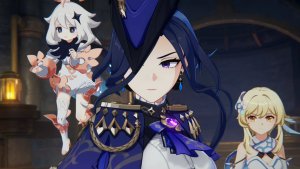 In the realm of Genshin Impact, every character aligns with a specific element, and for Clorinde, it's Electro. She joins the ranks of powerful Electro characters such as Shogun Raiden and Yae Miko. However, one question that has kept fans on their toes is her choice of weaponry. Though Fontaine is rumored to introduce new weapons, the exact type Clorinde wields remains a puzzle. Recent visuals and livestreams do hint at her brandishing a gunpowder weapon.
The Release Date Conundrum
As of now, a definitive release date for Clorinde in Genshin Impact has yet to be declared. Initial banner leaks, which often give a sneak peek into upcoming events and characters, remain silent on this front. This leads to speculation that Clorinde might make her grand entry much later during Fontaine's storyline. Version 4.5 is currently the speculated debut, although recent leaks fail to provide a conclusive connection.
Keen an Eye in the News!
The world of Genshin Impact is vast and ever-changing. The introduction of Clorinde and other new characters with the Fontaine update promises to enhance gameplay and offer new story arcs. While details about Clorinde remain scanty, the excitement is palpable. Players should stay tuned to official announcements and keep an eye on reputable leak sources for the most accurate information. Meanwhile, exploring current content and leveling up existing characters can be a strategic move in preparation for Fontaine's release.