In a major shakeup in the eSports world, GameSquare announced its intent to purchase FaZe Clan, signaling a significant pivot for the latter, which had recently faced its own internal challenges.
Acquisition Details
GameSquare is set to acquire FaZe Clan in a stock transaction aiming to conclude by the end of 2023. At the time of this revelation, FaZe Clan's market value stood at a mere $16 million on the Nasdaq. This starkly contrasts its valuation from the previous year, illustrating its significant fall from grace.
To support this acquisition, GameSquare secured a $10 million commitment from Goff & Jones Lending Co, LLC. Furthermore, as part of the deal's terms, GameSquare will establish an asset-based loan line from SLR Digital Finance LLC, allowing access to an additional $10 million.
Share Division and Market Impact
Upon concluding the stock transaction, GameSquare shareholders will own roughly 55% of the combined entity. In contrast, current FaZe Clan shareholders will hold about 45%. Following this, each circulating FaZe Clan share will equate to a right to receive 0.13091 of GameSquare's ordinary shares.
The announcement resonated within the stock market, with FaZe Clan and GameSquare shares temporarily soaring by over 40% and 20%, respectively.
GameSquare's Vision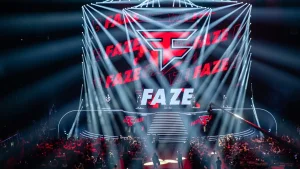 GameSquare envisions becoming a leading company in "content, media, and entertainment." FaZe Clan had transformed into a "lifestyle brand," extending beyond the eSports realm to tap into new markets and revenue streams. But amidst internal disputes and lackluster eSports team results, its brand had begun its descent.
For long, the FaZe Clan community had voiced their desire for the original founders (the 'OGs') to retake the reins. The prevailing sentiment was that the brand had become overly corporate, overshadowing the essence of what made FaZe truly "FaZe."
Leadership Revamp
A fresh leadership structure will be instated post-acquisition:
Richard 'Bank' Bengston will become the Chief Executive Officer.
Thomas 'Temperrr' Oliveira will take on the role of President.
Yousef 'Apex' Abdelfattah will be appointed as the Chief Operating Officer.
Mixed Reactions
Opinions on this development vary. While some believe it's a timely rescue for FaZe Clan, critics argue it might be too little too late. The recent tumultuous years might have inflicted irreparable damage, making even such a significant move seem inadequate.
But the returning OGs exude optimism. FaZe Banks, the incoming CEO, expressed confidence in the brand's revival, emphasizing their roots and profound understanding of its essence.
Future Endeavors
Upon deal completion, GameSquare x FaZe Clan will reportedly possess over a billion combined social media followers, owning one of the world's largest and most followed creator networks. This union promises a staggering portfolio of sponsors and brand partners, enabling the OGs of FaZe Clan to tap into a "robust and award-winning infrastructure."
The Advantages of the Business
While the acquisition might seem risky, the potential rewards for both GameSquare and FaZe Clan are immense. By merging their strengths, both entities can redefine the landscape of esports, bringing forth a new era of gaming and entertainment. Only time will tell if this union lives up to its promises.