GGTech Entertainment and MECENAS are poised to elevate the esports landscape with the introduction of GAMERGY to the United States. This landmark event, renowned for its vibrant celebration of gaming and esports culture, is slated to make its American debut in Miami from March 21 to 24, 2024.
An Esports Festival Like No Other
A Space for Gaming Enthusiasts
With over 11,000 square meters of exhibition space, GAMERGY Miami promises an immersive experience filled with esports competitions, musical performances, influencer meet-and-greets, brand activations, and much more.
The Main Stage Attraction
The main stadium will be the heart of the action, showcasing esports competitions that will be announced in the lead-up to the event. Expect high-stakes matches and electrifying displays of skill from both amateur and professional circuits.
From Local Favorite to International Sensation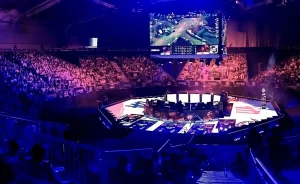 GAMERGY's roots in Spain, Mexico, and Argentina have set the stage for its American venture, with over 22 successful events already under its belt. GGTech's strategic move to the US reflects its commitment to global expansion and the ever-growing demand for interactive gaming events.
Juan Diego García Squetino, Business Director of GGTECH America, shares his enthusiasm: "After years of success in Spain, Argentina, and Mexico, bringing GAMERGY to the US feels like a natural progression. We're ready to make a lasting impression on the American esports scene."
Lisa Torres, President of Publicis Media's multicultural practice, and Gonzalo Del FA, President of GRUPO M Multicultural, echo this sentiment, highlighting the unique opportunity to engage with the diverse and youthful gaming community through a live event of this magnitude.
GAMERGY's Legacy and Future
Past GAMERGY events have featured a wide array of games such as Valorant, League of Legends, Fortnite, and Rocket League, to name a few. The Miami event is expected to follow suit, providing a platform for the latest and greatest in esports competition.
A Year of Triumphs for GGTech
The announcement caps off a stellar year for GGTech, having secured the rights to operate collegiate-level competitions for Riot's leading esports titles and a significant investment of $12.4 million to recruit top talent for its future endeavors.
Mark Your Calendar!
As anticipation for GAMERGY Miami builds, gamers and esports aficionados are marking their calendars for what promises to be a spectacular event. Keep an eye on LoL Esports and GGTech's official channels for upcoming details and ticket information.