The eSports arena witnessed a spectacle as Gaimin Gladiators locked horns with Azure Ray at The International 2023. As stakes were high, the tension was palpable, but what unfurled was nothing short of exceptional.
Gaimin Gladiators' Strategy Unravels Azure Ray
Azure Ray's strategy, right from the draft phase, seemed a bit off the mark. Their initial choice of Naga Siren left them vulnerable. Gaimin Gladiators, seizing this opportunity, countered effectively. GG's approach to combat the Chinese powerhouse was both innovative and assertive. They adopted a high-tempo game, centered around a Chaos Knight carry and an offlane Underlord. While the latter isn't the favored pick in the current meta, it was an apt response to the Naga draft.
The outcome? A staggering win for the Gladiators in a mere 22 minutes. And if that wasn't enough, they followed it up with an even more commanding victory in the subsequent match.
The Huskar Surprise at TI12
The second game was notable not just for the Gladiators' dominance, but also for introducing the tournament's first Huskar pick. This strategic masterstroke was GG's trump card for Quinn "Quinn" Callahan. His performance in the mid lane was nothing short of exemplary, effectively dismantling the Azure Ray line-up.
The game commenced with the Gladiators marking their territory with 4 early kills. The skirmish over the spawning Bounty Runes in the river resulted in GG gaining a robust 2K gold lead. By the 5-minute mark, this lead burgeoned to 6K. Azure Ray found themselves in a quagmire, unable to rally back. Consequently, Gaimin Gladiators registered what can arguably be termed as the most decisive win at The International 2023.
What Lies Ahead for Gaimin Gladiators?
Azure Ray, albeit their commendable journey, had to settle for the 4th spot at TI12. On the flip side, the Gaimin Gladiators are on the cusp of eSports glory. Being one series away from the grand finale, they are set to face-off against LGD Gaming in the lower bracket finals. The much-anticipated match is scheduled for Sunday, October 29. Given their recent form, Gaimin Gladiators, the three-time major champions of 2023, are surely the ones to watch.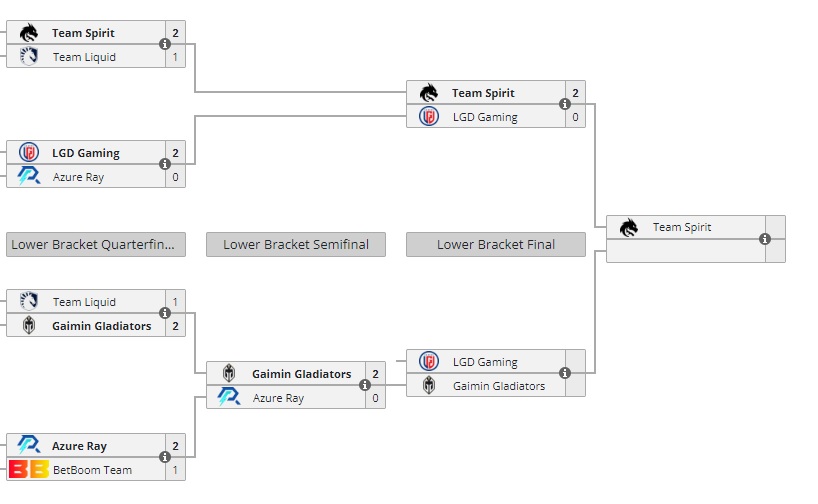 The International 2023 has seen its share of highs and lows. However, the strategic gameplay showcased by the Gaimin Gladiators, especially in their match against Azure Ray, stands out. Their tactical acumen, combined with on-point execution, promises an exciting finale. Fans and enthusiasts should gear up for a showdown that might very well redefine the annals of eSports history.