The Legend of Xu "fy" Linsen's Prowess
The realm of professional Dota 2 has witnessed the magnificent journey of Xu "fy" Linsen, widely known as fygod by a dedicated fanbase. His reputation of being one of the most illustrious hard supports over the years is a testament to his talent. Boasting a career that has spanned over a decade, fy has graced The International grand finals twice and claimed top 4 positions on the TI stage a total of four times.
However, following his separation from LGD Gaming in 2020, challenges mounted. Contemplating retirement, he took a short hiatus, only to return under the Elephant banner, though facing a crushing defeat at TI10. His journey in the subsequent year, filled with roster shuffles and regional qualifiers, didn't bring much fortune either.
A Reunion that Reignited Hope: The Azure Ray Formation
Amidst professional challenges, fy remained undeterred. His resolve became evident when he teamed up once again with his former TI8 and TI9 LGD teammates, Yang "Chalice" Shenyi and Lu "Somnus" Yao, to earn a spot in TI12 under the Azure Ray flag. This year's TI might signal fy's curtain call, but that's only fanning the flames of his passion.
Interestingly, China's representation at TI this year is at its lowest. Yet, both the Chinese teams present have showcased commendable performances in the initial group stage matches in Seattle. Azure Ray's debut against Team Liquid, coupled with LGD's victory over the Gaimin Gladiators, has ignited the spirits of Chinese Dota enthusiasts.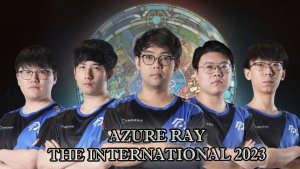 Azure Ray's Clash with Team Liquid: A Game for the Ages
Group B, dubbed by many as the 'group of death', witnessed an electrifying start. Azure Ray's initial bout against Team Liquid exemplified their strategic brilliance. The first game concluded in less than half an hour, showcasing Azure Ray's dominance with their aggressive playstyle from the outset.
fy Shatters TI Kill Record
Among the many highlights, one that stands out is fy's spectacular play as a position 4 Nature's Prophet. Collaborating seamlessly with Chalice's Pangolier, they wreaked havoc across the map. By the 9-minute mark, fy had already secured 8 kills, setting a new record for the highest kills by an individual at that time point in all TI history. This achievement becomes even more remarkable when we consider that only two other players, Artour "Arteezy" Babaev and Zhou "Emo" Yi, have surpassed this feat in Dota 2's entire lifespan.
Azure Ray's commanding lead in game one was evident with a 33 to 9 kill ratio and a staggering 26k gold lead. However, Team Liquid exhibited resilience, making a comeback in the subsequent game.
Fy is 8/2/2 at 8m45s.

This is the most kills @ 9mins in The International history, only two players have had more on LAN before (@Arteezy with 9 at ONE Esports Dota 2 World Pro Invitational Singapore; Emo with 9 at Dota Summit 11).

— Ben Steenhuisen (@Noxville) October 12, 2023
The Road Ahead: Upcoming Challenges
Both teams have a packed schedule for the initial group stage day. Team Liquid will face BetBoom Team and Shopify Rebellion, whereas Azure Ray is set to confront the South American giants, Thunder Predator.
The Legend
fy's remarkable return to The International is not just a testament to his skill and passion but also a reminder of the unpredictable nature of competitive Dota2 esports. As the battles continue, fans worldwide eagerly await more record-breaking performances and nerve-wracking games.