EA SPORTS FC 24 has arrived, heralding an exciting era of new FUT Heroes that bridge the gap between the past greats and the present-day legends. This latest installment is not just an update—it's a revolution in the Ultimate Team experience. Let's delve into the new Heroes that have been confirmed to adorn your FUT decks with legacy and power.
Celebrating the Pinnacle of Football Excellence
FUT Heroes have transformed how we reminisce football's storied past. These cards are more than just a nod to the players who captivated us with their mastery; they are a tribute to those who led their clubs to glory and etched their names into the annals of football history.
A New Squad of Icons
From the tactical finesse of Carlos Tevez with a rating of 90, the artful playmaking of Wesley Sneijder rated 91, to the trailblazing Alex Scott, the first female footballer in FUT Hero history with an 88 rating, the new Heroes are poised to redefine your game.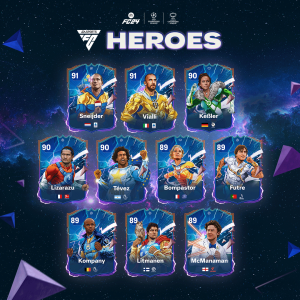 Premier League's Finest
Carlos Tevez (Premier League) – 90 Rating
Vincent Kompany (Premier League) – 89 Rating
John Arne Riise (Premier League) – 87 Rating
Ramires (Premier League) – 87 Rating
Serie A's Legendary Icons
Wesley Sneijder (Serie A) – 91 Rating
Gianluca Vialli (Serie A) – 91 Rating
Rui Costa (Serie A) – 89 Rating
Breaking Barriers in Women's Football
Alex Scott (Women's Super League) – 88 Rating
Nadine Kebler (Frauen Bundesliga) – 90 Rating
Sonia Bompastor (Division 1 Feminine) – 89 Rating
La Liga and Beyond
Bixente Lizarazu (Ligue 1) – 90 Rating
Ludovic Giuly (La Liga) – 88 Rating
Steve McManaman (LaLiga) – 89 Rating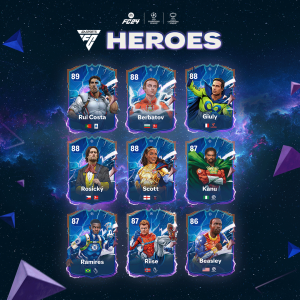 Tevez: A Tale of Triumph and Controversy
Carlos Tevez's controversial move from Manchester United to Manchester City was more than just a transfer; it was a statement. His subsequent achievements, including the Premier League Golden Boot and lifting the FA Cup in 2010, were just precursors to him leading City to its first Premier League title in 44 years.
Sneijder: The Dutch Maestro
At the height of his powers, Wesley Sneijder was not just playing football; he was redefining it. At Inter Milan, he was instrumental in securing the Serie A title and the Champions League trophy. With 134 caps, he stands tall as the most capped Dutch player, his career a blend of brilliance often curtailed by injuries.
A full squad of Heroes, ready to take on the world.

Pre-order #FC24 Ultimate Edition by August 22 and get an untradable @ChampionsLeague or @UWCL Hero in Ultimate Team on Nov 27: https://t.co/YEiGePhyl4 pic.twitter.com/qWRXrll8z1

— EA SPORTS FC (@EASPORTSFC) July 28, 2023
The Image That Captures the Glory
For the featured image, imagine a collage of these FUT Heroes, each poised in their iconic football stance, exuding the aura of legends.
Alt Text: "FUT Heroes of EA SPORTS FC 24 including legendary players from Premier League, Serie A, and Women's Super League"
Ready to Take on The World!
In the end, EA SPORTS FC 24's FUT Heroes are not just about the nostalgia or the ratings. They are about crafting a team that embodies the spirit of football, the passion of competition, and the sheer joy that comes with playing with your childhood idols.