AMD's new tool, FSR 3.0, has recently been released. With the help of this tool, you can make video games run more smoothly.
FSR 3.0 combines AMD HYPR-RX with other AMD technologies. This tool is specially designed for texture rescaling and smoothing. In addition, it is expected to improve performance in all kinds of situations, including ray tracing.
FSR 3.0, the new tool from AMD
Yesterday, August 25, AMD unveiled its new RX 7800 XT and RX 7700 XT graphics cards and announced the debut of the latest version of its FSR technology. This technology allows to increase in the performance of video games by rescaling and smoothing textures, this announcement on the occasion of Gamescom.
FSR 3.0 is the new version's name, supporting its first games in September. Like its predecessors, it will work with AMD, NVIDIA, Intel graphics cards, and other gaming platforms or consoles that would not be the first to use this rescaling tool.
The main innovation of FSR 3.0 is using frame generation technology, which allows additional images to be produced with this tool. This makes it possible to increase the frame rate of supported video games, thus improving their performance while trying to affect the visual quality as little as possible.
In terms of supported games, AMD has announced that FSR 3.0 will be coming to titles such as:
Cyberpunk 2077
Frostpunk 2
Avatar: Frontiers of Pandora
Squad
Alters
Forspoken
Immortals of Aveum
Warhammer 40.000: Spaces Marine II
Starship Troopers Starmination
Black Myth Wukong
Crimson Desert
Like a Dragon Gaiden: The Man Who Erased His Name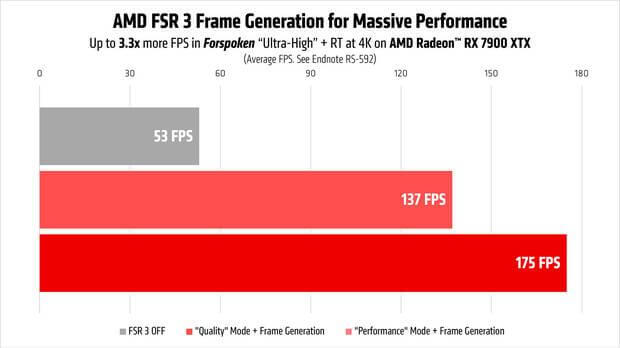 New AMD Technology to Improve Gaming Performance
AMD FSR 3.0 can collaborate with other AMD technologies within the company's suite of tools dubbed HYPR-RX. The company's goal is to improve performance in all video games and, more specifically, its ray-tracing performance, the brand's Achilles heel until now.
Technologies included in this group include AMD FSR 3.0, which we have already discussed. In addition, AMD Anti-Lag+ is included to reduce latency. Radeon Boost dynamically adjusts the resolution when we perform fast camera movements in games such as first-person shooters. Allowing games to adapt when these movements are made to improve FPS and fluidity.
On a performance level, AMD wanted to give us a small taste of this set called HYPR-RX with their tests using an RX 7800 XT at 1440p. For example, using ray tracing, the frame rate in Shadow of the Tomb Raider can increase from 113 to 165, while in Cyberpunk 2077, it can go from 92 to 120.