Bermuda, the iconic Free Fire map, surprises us once again with its Halloween theme. But that's not all; it's also time to bid farewell to the special collaboration with Demon Slayer. Ready to dive into all the missions awaiting this week?
New missions: eerie surprises and goodbye to Demon Slayer
The essence of Halloween permeates every corner of Bermuda. Players will have to confront hair-raising and demonic challenges to claim all the available rewards. However, it's not all about scares; it's an opportunity to collect unique items and bolster your arsenal.
Aldea del Herrero offers us the last chance to make the most of the FreeFirexDemonSlayer collaboration. In this mission, you'll take on rivals and compete in matches to earn event tokens. But don't get sidetracked, for time is of the essence: these missions will vanish between October 13th and 15th.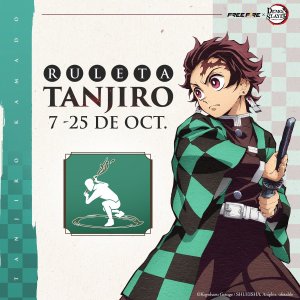 What awaits in the Magic Roulette
Ready to test your luck? The Magic Roulette is back, bringing with it the enticing Densho Masculino skin. Moreover, weapon enthusiasts will appreciate the Kami of Fury aspect for the Scar. Don't miss out on spinning it starting October 11th.
Halloween Twilight Event: nighttime challenges
Starting October 16th, the Halloween Twilight Event will immerse us in shadowy missions with Nighttime Paralysis as the centerpiece. Here's what you can earn by hitting certain milestones:
Play one match: Random attachments box.
Play 5 matches: Night jester box.
Play 10 matches: Scarlet Hat.
With these challenges, Free Fire marks the beginning of a spooky season and the end of a memorable collaboration. Don't forget to keep your device primed and charged, as the rewards are worth every minute of gameplay.
Enjoy the Collaboration!
Gear up to tackle every challenge that Bermuda has to offer. Seize these missions to enhance your collection and be ready for any situation on the battlefield. Good luck, survivor!