As Fortnite OG reclaims its place in the heart of gamers, the Call of Duty Warzone community is left pondering: could a return to its roots with Modern Warfare 3 be on the horizon?
The Resurgence of a Classic
Last week, Epic Games' battle royale sensation welcomed back a nostalgic piece of its history – the original Chapter 1 map. This blast from the past drew in an astonishing 44.7 million unique players on November 4th alone, reigniting the spark of the early Fortnite days.
A Community's Call: The Return to Verdansk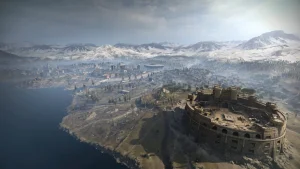 With the release of Call of Duty: Vanguard in late 2021, Warzone introduced a new map, departing from the beloved Verdansk that had debuted with 2019's Modern Warfare. While players have adapted to Al Mazrah from Modern Warfare 2, whispers of a new map are circulating…
During Sledgehammer Games' title reveal, developers teased the upcoming BR features and hinted at the new Urzikistan map, a blend of Al Mazrah and Verdansk. Yet, it won't be the Verdansk veterans remember. Now, with Fortnite OG's success, Warzone players are voicing their desire for Verdansk's grand return.
Social Media Buzz: The Demand for Nostalgia
The call for Verdansk's return has echoed across social platforms, particularly on [X], where the community's nostalgia is palpable. Statements like "it would be too logical for them to do it" and "they have to bring it back" abound. A reintroduction of Verdansk could undoubtedly galvanize the community.
Fortnite reached an all time peak player count with the OG map return.

Call of Duty needs to bring Verdansk back. pic.twitter.com/caCg5yfAfw

— CharlieIntel (@charlieINTEL) November 6, 2023
The Possibility of a Comeback
While the future of Verdansk in Warzone remains uncertain, dismissing its return would be premature. The Modern Warfare 3 campaign teases glimpses of the old city, and it wouldn't be far-fetched for developers to consider its revival.
Remember, Call of Duty: Modern Warfare 3 is set for a complete release on November 10th. Sledgehammer Games' title will feature a campaign (with early access starting November 2nd), multiplayer with 16 remastered maps, and a new Zombies mode.
---
Listen to the Community
The success of Fortnite OG's classic map return could inspire similar moves in the Warzone community. Should Verdansk make a celebrated comeback, it could revitalize the player base and bring back the glory days of Modern Warfare.