Epic Games, the developer of Fortnite, recently faced significant community backlash following its November 16 update. This update introduced new age ratings for custom maps and modes, leading to restrictions on certain cosmetics based on age appropriateness.
The Age Rating Controversy
The update saw cosmetics, loading screens, and music being labeled and restricted according to the age rating of each island or custom map. Items targeted at audiences older than a map's rating were rendered unusable in that specific setting. This decision drew sharp criticism from the Fortnite community, prompting a response from the developers.
Epic Games' Response
Epic Games addressed the concerns on X (previously known as Twitter), announcing plans to adjust the appearance of about seven percent of Fortnite outfits currently limited to Teen-rated islands. Over the next year, these outfits will be modified to be compatible with all ratings, automatically adjusting their appearance based on the island's rating.
More on today's rating announcement. About 7% of Fortnite Outfits can only be equipped in islands rated Teen. Over the next year we will enable most of these Outfits to be compatible with all ratings by having them auto-adjust appearance based on the island you want to play.

— Fortnite (@FortniteGame) November 16, 2023
Community's Mixed Reactions
While this response has appeased some players, others remain unsatisfied, particularly regarding the lack of mention about the future of loading screens and music. Notably, the iconic loading screen from 'Save the World' was among the replaced items, with no immediate plans for reversal.
Labelled as "The Worst Update Ever"
Some players have labeled this update as "the worst update ever," expressing dissatisfaction with the changes and their impact on the game's attempt to return to its original roots with the OG map.
Voice Chat Clipping Feature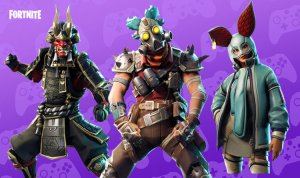 In addition to the age rating adjustments, the update also introduced a feature allowing players to clip voice chats to enhance the accuracy of report responses. However, this addition has been overshadowed by the larger controversy surrounding content restrictions.
The Controversial Fortnite Update
Epic Games' attempt to navigate the complex waters of content age rating in Fortnite has met with mixed reactions, highlighting the challenges of maintaining a balance between community preferences and regulatory compliance. Players and stakeholders in the Fortnite community will be closely watching how these adjustments unfold over the coming year.