The world of gaming has witnessed major milestones throughout the years, and 2023 has been no exception. Fortnite, one of the most iconic games of our time, has once again showcased its dominance in the esports realm with the FNCS Global Championship 2023.
The Rise of the FNCS Global Championship 2023
With the revamped FNCS format, which includes thrilling Major tournaments and the highly anticipated return of a large-scale LAN event, Fortnite's competitive audience has seen a significant boost.
The Royal Arena in Copenhagen was the chosen stage for the finals of this championship, concluding with a massive viewership and securing its place as the fourth most-watched Fortnite event of all time.
North American Glory: Cooper and Mero
It wasn't just a high viewership event; it was also filled with intense emotions and edge-of-the-seat competition. The American-Canadian duo of Cooper and Mero not only showcased their prowess but also clinched the grand prize of $1M.
The Power of Numbers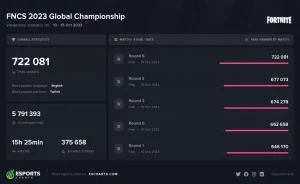 Numbers don't lie. With a staggering peak of 722,081 viewers and an average of 375,658 viewers, the tournament kept its audience's attention from start to finish. Especially notable were the 722k viewers during the final round, a testament to the level of excitement the championship offered.
The impact that platforms like Twitch had on the broadcast is undeniable, with English being the most popular language among viewers.
Rewriting History
The recent viewership figures catapulted this Fortnite event as the most-watched of the year, only behind monumental events from 2018 and 2019, such as the 2019 World Cup finals.
A Refreshed and Successful Format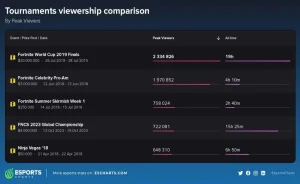 Fortnite's resurgence in the competitive scene can be largely credited to the refreshed FNCS format. The strategy of introducing Major tournaments throughout the year and reviving a large-scale LAN event has reignited interest in the game, especially following a period impacted by the pandemic.
Furthermore, with giants like BLAST producing the event and Swarovski taking charge of the trophy design, FNCS 2023 has shown that a combination of strategy, talent, and high-level collaborations can yield remarkable results.
New horizons in Fortnite esports
The FNCS Global Championship 2023 serves as a prime example of how the right strategy and adaptation can propel a game to new heights. The future of Fortnite in the competitive arena looks bright, and with the ongoing support of the community and strategic partnerships, we can expect even more milestones in the coming years.