Fortnite, the titan of Battle Royale games, is gearing up for another world tournament. The FNCS 2023 is set to be the grand stage where the best player in the world will be crowned.
The wait is over!
From October 13th to 15th, the Royal Arena in Copenhagen will become the mecca for all Fortnite fans. The world's top players will have a golden opportunity to showcase their skills and vie for a whopping prize pool of $4 million.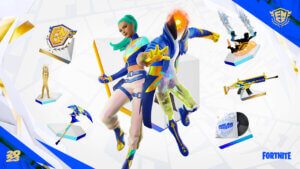 Want to be part of the live experience?
For those looking to witness this epic battle firsthand, the doors of the Royal Arena are wide open. Get your ticket and immerse yourself in the adrenaline of FNCS 2023. And for those who prefer the comfort of their home, Fortnite has got you covered: Legends' Landing. Using the island code 3303-7480-5925 or via the "Discover" tab, you can dive right into the heart of the event.
Show Schedule:
Day 1 (October 13): Upper Bracket at 4:00 PM CEST.

Day 2 (October 14): Lower Bracket at 4:00 PM CEST.

Day 3 (October 15): The Grand Finale at 4:00 PM CEST.
Drops and rewards for the community
Yes, you read that right. Just by tuning into the tournament via Legends' Landing or competitive.fortnite.com, you stand a chance to win exclusive rewards. Emotes, sprays, and many more surprises await those who dedicate at least 30 minutes of their day to the championship.
Are you a content creator? We've got good news for you!
Through fn.gg/cleanfeed, you'll have access to a live feed of the tournament. A unique opportunity to narrate, analyze, and share with your community every play, strategy, and of course, every victory.
Prize Breakdown:
The road to glory has its rewards. The victorious team will take home, according to "Fortnite Tracker", one million dollars. A figure that proves that in the world of Fortnite, being the best has its perks.
Unique Experience
The FNCS 2023 is not just another tournament. It's a testament to the passion, skill, and dedication of millions of players worldwide. Whether you're in the stands at the Royal Arena or on your living room couch, we invite you to be a part of this experience. Let the battles begin!