The electric atmosphere of Tokyo's Ryogoku Kokugikan Arena was charged with anticipation, as two top-tier VALORANT teams clashed in the decisive showdown of the Red Bull Home Grounds #4.
Fnatic, a name synonymous with precision and strategy, locked horns with the formidable Cloud9, each vying to claim the grand title and a share of the hefty $300,000 prize pool. This gripping narrative unfolded in a series of intense maps that would ultimately etch Fnatic's name as the new sovereigns of the VALORANT realm.
The Inaugural Clash on Bind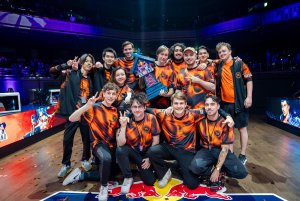 Fnatic's strategic acumen was put to the test from the very start on Bind. Despite seizing the initial round, Cloud9's resilient comeback, fueled by OXY's Yoru and his deceptive backstabs, spelled a thrilling five-round streak. Fnatic's VALORANT squadron, known for their resilience, started to claw back, hinting at a reversal of fortunes. But Cloud9's persistence shone through, granting them the upper hand.
Nevertheless, as the sides switched, Fnatic's offensive might, spearheaded by Alfajer and Derke, dismantled Cloud9's defenses. Cloud9's sole win in the latter half barely dented Fnatic's commanding 13-7 victory, setting a formidable tone for the matches to come.
The Tug-of-War on Breeze
On Breeze, neither team could secure a stronghold, with the lead seesawing between the two contenders. OXY's astonishing 330 ACS performance was a spectacle, yet Fnatic's consistent firepower kept the map on a razor's edge. Ultimately, Cloud9's tenacity prevailed, tipping the scales with a 13-9 triumph.
HELLO WORLD

THIS IS @LFT_OXY pic.twitter.com/VSFlzFtusy

— Cloud9 VALORANT (@C9VAL) November 5, 2023
The Pivotal Battle on Ascent
Cloud9 carried their momentum into Ascent, initially dominating the field with a 5-0 lead. Yet, Fnatic's strategic pivot after a prescient social media prediction saw them rally to a momentary lead. The first half concluded in a deadlock, but Cloud9's unyielding resolve saw them seize Ascent with a 13-9 score, placing them a single map away from the championship.
The literal guardian on A @Lft_Oxy pic.twitter.com/6x5oDt1w73

— Cloud9 VALORANT (@C9VAL) November 5, 2023
Lotus – A Terrain for Fnatic's Expertise
Lotus, a battlefield where Fnatic has historically reigned, unfolded predictably. Fnatic's mastery, particularly by Chronicle and Alfajer, was on full display as they dominated Cloud9, reaffirming their prowess on this map with a decisive victory.
200 IQ PLAY @jakeeVALhttps://t.co/4Z7gPRHjZb#RedBullHomeGround#VALORANT #ヴァロ冬場所@AGONbyAOC@LandRoverJPN pic.twitter.com/ZGoxSji5Kx

— レッドブル ゲーミング⚓♌️ (@RedBullGamingJP) November 5, 2023
Haven – The Crowning Glory
The final stand on Haven saw Fnatic deploy their hallmark aggressive strategies. Dominating the first half and establishing an impregnable defense, Fnatic's relentless advance left Cloud9 in disarray, unable to secure a single round in the second half. This masterful display clinched a 13-5 win for Fnatic, crowning them the Red Bull Home Grounds #4 champions.
THE WINNING PLAY @leojannesson pic.twitter.com/EG9qCMtOef

— FNATIC (@FNATIC) November 5, 2023
Ending the Year Well!
Fnatic's journey to the summit of Red Bull Home Grounds #4 is a testament to the team's unyielding spirit, strategic depth, and individual prowess. Their victory not only secures them the championship title but also reinforces their position as a force to be reckoned with in the international VALORANT esports scene.