As the Worlds 2023 championship marches toward its electrifying finale, the legendary player Faker carves deeper grooves into the annals of League of Legends. T1's recent triumph over LNG Esports not only propels them into the semifinals but also amplifies Faker's already monumental legacy in the realm of competitive gaming.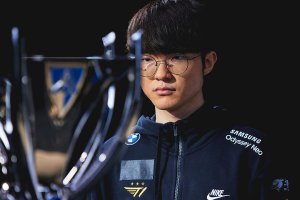 T1's Unyielding Advance and Faker's Record
The battle for the League of Legends World Championship is intense, with the semifinalists now locked in and the anticipation for the crowning champion mounting. T1's stellar performance this Sunday secures their position as one of the top four, all while catapulting Faker into an even higher echelon of esports glory.
The streak continues. https://t.co/fM9sgpr3FM

— LoL Esports (@lolesports) November 5, 2023
The Semifinal Showdown
Next weekend, South Korea becomes the stage for the impending semifinals. On one side, Weibo will clash with BLG, and on the other, JD Gaming faces the stalwart T1. As the lone torchbearer for Korea, T1's victory over LNG in the quarterfinals has not just guaranteed them a spot in the top four but has also served to magnify Faker's illustrious presence at Worlds. This is attributed to the extraordinary statistic that the "Demon King" has achieved with this latest advance.
"…and then they said we wouldn't make Semis" pic.twitter.com/VXzInM8E9X

— LoL Esports (@lolesports) November 5, 2023
Faker's Impeccable Quarterfinal Record
Remarkably, throughout his career, Faker has never missed a top-four finish in any World Championship he has participated in. This means the core midlaner has triumphed in every quarterfinal series he's played, and this year's tournament is no exception. Donning the T1 jersey, Faker has been an undeniable force across eight Worlds Championships. Starting with his debut and subsequent victory in 2013, he has since hoisted the trophy in 2015 and 2016. And although his last Worlds win dates back to 2016, he has impressively managed to compete in two finals (2017 and 2022) and three additional semifinals (2019, 2021, and 2023).
Your #Worlds2023 Semifinals schedule! pic.twitter.com/zPY0ur5yuK

— LoL Esports (@lolesports) November 5, 2023
The Road Ahead for Faker and T1
The fate of Faker and T1 in this year's World Championship hangs in the balance and will begin to unfold next weekend. However, regardless of the outcome, the "Demon King" has already etched his name in history once more, continuing to cement his status as the greatest player of all time.
To witness the continuation of Faker's journey and T1's battle for supremacy, tune into the upcoming matches on League of Legends Esports.