The world of esports prepares for another electrifying season as the ePremier League makes its anticipated return under the banner of the EA Sports FC for the 2023/2024 season. With coveted spots for the UEFA eChampions League and the FC Pro World Championships up for grabs, this season promises unparalleled excitement and fierce competition.
A New Chapter in the ePremier League Legacy
After five successful seasons, the ePremier League is set to kick off its sixth season. What makes this year more significant is the incorporation of the league under the freshly minted EA Sports FC brand. As announced by the gaming giant, Electronic Arts (EA), the top contenders of the ePremier League stand a chance to secure their position in the UEFA eChampions League and the FC Pro World Championships.
Journey to the Crown: Format and Key Dates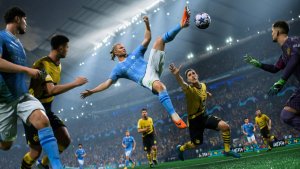 The adrenaline-fueled journey begins with online qualifiers slated for November. However, participants should note that qualifier dates might differ based on their chosen club. As the competition heats up, each club will forward two top players to engage in 1v1 matchups, setting the stage for December's enthralling Playoffs.
Taking the excitement a notch higher, the ePremier League finals will span two riveting weekends. The first weekend, stretching from January 20th to 21st, is earmarked for the group stage finals. From this, the top four clubs will secure their spots in the Grand Finals. However, hope is not lost for the remaining teams, as they get another shot at glory on March 23rd, leading to the Finals on March 24th.
EA Sports FC: Revolutionizing Esports
The announcement of the ePremier League's return follows hot on the heels of EA's unveiling of their global esports ecosystem – EA Sports FC. This innovative ecosystem bifurcates into the FC Pro Leagues, encapsulating the ePremier League and its counterparts from other national football leagues, and the FC Pro Open, an avenue welcoming all esports professionals.
A Testament to Growth and Passion
As the ePremier League embarks on its sixth season, the anticipation and enthusiasm are palpable. Over the past seasons, the league has showcased thrilling matches, introducing the world to new esports talents and crowning a new champion each time. As Will Brass, Commercial Director of the Premier League, rightly expressed, the upcoming 2023/24 season is eagerly awaited, with high hopes pinned on the fresh talents and nail-biting matches it promises to bring.
The Most Expected League!
The ePremier League's return under EA Sports FC is not just a testament to the growing popularity and acceptance of esports but also a signal to aspiring esports athletes globally. With bigger platforms, opportunities, and rewards, the world of esports is continuously evolving, offering unparalleled entertainment and competition.