Enthusiast Gaming, a North American gaming and esports company, revealed its financial results for Q3 2023, indicating a concerning trend of increasing losses. Despite the company's growth in certain areas, it recorded a net loss of $42.7 million for the quarter, a significant rise from the $26.8 million loss in the same quarter the previous year.
Key Financial Insights
Net Loss: Increased to $42.7 million in Q3 2023 from $26.8 million in Q3 2022.
Non-Monetary Impairment Expenses: Accounted for $37.4 million in Q3 2023 and $22.6 million in Q3 2022.
Cash Balance: Dropped to $2 million from $5.4 million at the end of 2022.
Revenue and Expense Breakdown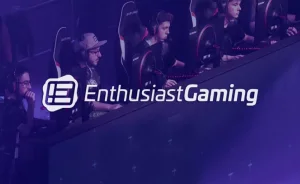 Total Revenue: Declined by 10% to $33 million.
Media and Content Revenue: Decreased by 10% to $28.8 million.
Esports and Entertainment Revenue: Fell by 12% to $1.5 million.
Subscription Revenue: Dropped by 2% to $0.7 million.
Operational Highlights and Achievements
Despite financial woes, Enthusiast Gaming achieved several milestones during the quarter:
NFL Tuesday Night Gaming (NFL TNG): Season 2 launch with increased impressions and advertiser count.
Partnership with Netflix and Metavision: Collaboration for a Fortnite Creative gaming experience for One Piece.
Brand Solutions Revenue: New and renewed deals with major brands contributing to 69% of Q3 2023 revenues.
Pocket Gamer Connects (PGC) Events: Successful B2B gaming conferences and networking events.
Luminosity Gaming's New Initiatives: Launch of a Super Smash channel and re-entry into Rocket League.
Icy Veins and Addicting Games: Record-breaking user engagement and website visits.
Market Position and Stock Delisting
Digital Media Traffic: Ranked as the top gaming property in the US with 56 million unique visitors.
Stock Delisting: Voluntary withdrawal from Nasdaq as of November 9, 2023, but continues trading on TSX.
Overview of Enthusiast Gaming's Financial Health
Enthusiast Gaming's financial struggles reflect the volatile nature of the gaming and esports industry. Despite operational successes and strategic partnerships, the company must navigate the challenges of increasing losses and cash flow concerns to stabilize its financial future.