The Elisa Masters Espoo 2023, a highly anticipated CS2 event, is set to begin on November 29 with eight teams competing for a $200,000 prize pool. Taking place in Finland, this LAN event promises thrilling encounters, including a North American derby and a Finnish rivalry.
Exciting Matchups and Team Distribution
Opening Match: ENCE vs HAVU at 13 EET.
North American Derby: FURIA vs Complexity on Day 2, rekindling a rivalry last seen at the BLAST Premier Fall Showdown.
Group Distribution
Group A: ENCE, Fnatic, GamerLegion, HAVU
Group B: Apeks, Complexity, FURIA esports, MOUZ
Tournament Structure
Format: Double-elimination group stage.
Advancement: Top two teams from each group proceed to the playoffs.
Prize: The winner takes home $100,000, half of the total prize pool.
🔥 The groups for #ElisaMasters Espoo 2023 are set!

Group A: @ENCE, @GamerLegion, @FNATICCS2, @HAVUgaming

Group B: @mousesports, @Complexity, @FURIA, @apeksgg

First matchups kick off on Nov 29th with ENCE vs. HAVU at 13 EET!

Full Studio Phase Schedule👇 pic.twitter.com/xzHY2z4X2l

— Elisa Esports (@ElisaEsports) November 19, 2023
Impact of CS2 Release on the Tournament
The release of Counter-Strike 2 (CS2) has significantly impacted team rankings and performances. With ongoing roster changes and team adaptations, the dynamics of the tournament are more unpredictable and exciting.
Key Team Updates
Fnatic's Roster Change: Recent parting with player Mezii.
Anticipated Adjustments: Expectations of new roster additions before the tournament's commencement.
Why Elisa Masters Espoo 2023 is a Must-Watch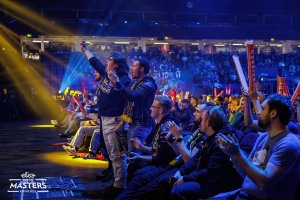 This tournament is not just a competition; it's a showcase of strategy, skill, and adaptation in the new CS2 landscape. Fans can expect intense battles, strategic gameplay, and the potential for upsets and breakthrough performances.
Overview of Elisa Masters Espoo 2023
For esports enthusiasts and CS2 fans, the Elisa Masters Espoo 2023 is an unmissable event. It's not just about who wins; it's about witnessing the evolution of strategies and playstyles in the exciting new era of CS2.