As anticipation builds for the release of Team of the Week 8 (TOTW 8) in EA Sports FC 24, the football world buzzes with speculations. This edition is expected to deliver remarkable upgrades, and here are our expert insights.
Star Performers Headlining TOTW 8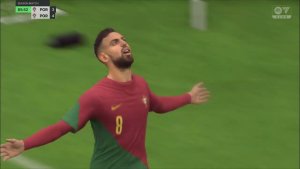 Bruno Fernandes' late goal sealed the deal for Manchester United against Fulham, highlighting his critical role in the team's success. On Manchester's blue side, Jeremy Doku dazzles with four assists and a goal in a 6-1 triumph over Bournemouth, making him a frontrunner.
Marc Andre Ter Stegen's five-star show against Real Sociedad cannot be overlooked, much like Alex Grimaldo whose performance for UT players' favourite could secure him a TOTW spot after a double against Hoffenheim.
Projected TOTW 8 Line-up
Goalkeeper (PO): Marc André Ter Stegen – Barcelona
Left-Back (CAI): Alex Grimaldo – Bayer Leverkusen
Centre-Back (DFC): Aymeric Laporte – Al Nassr
Centre-Back (DFC): Dayot Upamecano – Bayern Munich
Right-Back (DFD): Achraf Hakimi – PSG
Midfielder (MI): Jeremy Doku – Manchester City
Midfielder (MI): Wilfried Zaha – Galatasaray
Central Midfielder (MC): Hakan Calhanoglu – Inter Milan
Attacking Midfielder (MCO): Alexandr Golovin – AS Monaco
Attacking Midfielder (MCO): Bruno Fernandes – Manchester United
Right-Wing (ED): Kadidiatou Diani – PSG
Striker (DC): Simon Banza – S.C. Braga
TOTW 8 Release Schedule
Following the patterns of the first two weeks, TOTW 8 is slated for release on Wednesday, September 20th, at 19:00 (Spain), 11:00 (Mexico).
Take Adventage!
Keep an eye out for these athletes who have shown outstanding skill and prowess in their recent matches. Their potential inclusion in TOTW 8 could be a game-changer for EA Sports FC 24 enthusiasts and UT players alike.