Does EA Sports FC 24 Really Outshine FIFA 23?
The introduction of EA Sports FC 24 hasn't met the warm reception many fans anticipated. As the successor to the renowned FIFA 23, this title has faced a torrent of criticism reflecting widespread community discontent.
Anticipated Launch with Mixed Results
Since its release in late September, EA Sports FC 24 burst onto the scene, leaving behind the iconic FIFA name. While it has shown commercial strength, it hasn't surpassed the figures of its predecessor, FIFA 23. Many players were expecting significant innovations, yet feel the name has changed without addressing deeper game issues.
Plummeting Ratings on Review Platforms
On Metacritic, the user rating crashes to 2.4 out of 10, based on 54 reviews. However, on Steam, out of 3,782 reviews, 55% are positive. These figures don't reflect the satisfaction level expected from such a major release. The most recurring critiques point to its similarity with FIFA 23 and the presence of technical errors.
Sales Falling Short of Expectations
Despite being one of the top-selling games in the UK, EA Sports FC 24 faces physical sales 30% lower compared to FIFA 23. Rising digital sales might balance this drop, but concerns remain about the game's overall perception.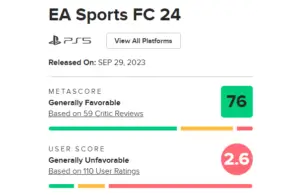 Persistent Criticisms Over the Years
The criticisms are not a new phenomenon for the series. For years, FIFA titles have been criticized for their lack of innovation. Microtransactions and "pay to win" tactics in FUT mode have also been points of contention among the community.
Real Impact of Criticisms on Sales
Although negative review bombings are concerning, their real impact on sales is uncertain. Other titles like Starfield have faced similar criticisms but achieved massive sales. Thus, it remains to be seen how EA Sports FC 24 adapts and responds to this wave of feedback.
Which one do you Prefer?
EA Sports FC 24 has had a turbulent start but still has the potential to bounce back and deliver what fans genuinely seek. It will be crucial for developers to heed these criticisms and take steps to improve in future updates or releases.