The much-anticipated Triple Threat in EA FC 24 has officially kicked off, drawing in fans with its dynamic roster and unique thematic approach. Here's a rundown of the key details you need to know about this exciting phase of the game.
Triple Threat's Start Date and Time
The Triple Threat feature in EA FC 24's Football Ultimate Team began on November 10th at 18:00 GMT, marking the start of an electrifying period in the game.
Week 1's Impressive Lineup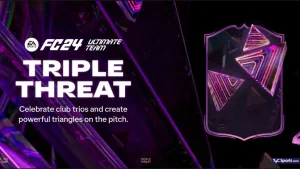 EA FC 24's Triple Threat has unveiled an impressive list of players for its first week, featuring a mix of active male and female footballers, as well as some iconic retired players. This diverse lineup showcases the game's commitment to inclusivity and excitement.
The Players Stepping Up in Triple Threat
The Triple Threat event in EA FC 24 is graced by a variety of renowned players, each bringing their unique skills and legacy to the virtual pitch.
Notable Players in the Spotlight
James Maddison
Jack Grealish
Ashleigh Neville
Sakina Karchoui
Maxence Caqueret
Leanne Kiernan
Athenea del Castillo
Presnel Kimpembe
Ledley King
Thiago
Dani Carvajal
Alex Greenwood
Yaya Toure
David Ginola
Joe Cole
Fernando Morientes
Dirk Kuyt
Fran Kirby
Conor Gallagher
Sidney Govou
Mario Hermoso
Diego Forlan
Leicy Santos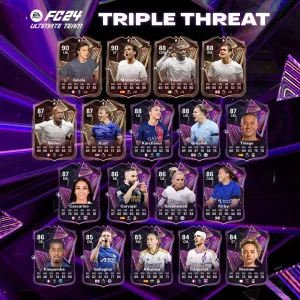 Inclusion of Retired Legends
In addition to current stars, the event also celebrates retired legends, adding a nostalgic touch to the game and honoring the history of football.
A Thematic Approach to Player Selection
The Triple Threat event follows a unique theme, focusing on three key player categories from major clubs: male players, female players, and Icons, thereby offering a comprehensive football experience.
Leaked Information and Future Insights
Renowned leaker @FutSherriff has been instrumental in revealing player information, and we can expect more leaks as the event progresses.
Fernando Morientes is set to arrive as #TRIPLETHREAT hero 🦸🏼✅

Predicted stats 👇 #FC24 pic.twitter.com/1W9zUwcALp

— FUTSherriff (@FUTSherriff) November 9, 2023
The Launch of EA FC 24's Triple Threat
As EA FC 24's Triple Threat continues to unfold, it promises more excitement and surprises. Stay tuned for the latest updates and insights into this thrilling event that merges past and present football legends in one digital arena.