EA has pulled the curtains on its sixth Team of the Week (TOTW) for EA FC 24, and there are some enticing cards to enhance your Ultimate Team's starting XI.
The Evolution of TOTW in EA FC
The idea behind Team of the Week is straightforward: it celebrates the top-tier performances from the previous weekend's soccer fixtures by offering upgraded cards in Ultimate Team. Yet, these cards rarely found their way into players' squads because other promotional cards often brought about better enhancements.
In FIFA 23, this issue was addressed by introducing Highlighted Objects, which provided significant boosts to weak foot and skill moves. Fast forward to EA FC 24, and this concept has been taken a step further by applying these upgrades to the next TOTW iteration of the player.
Key Players in EA FC 24's Team of the Week 6
Heading the charge for the sixth batch of TOTW cards in EA FC 24 is none other than Atletico Madrid's sharpshooter, Antoine Griezmann. Accompanying him in the spotlight are midfield maestros Leon Goretzka of Bayern München and Luis Alberto from Lazio.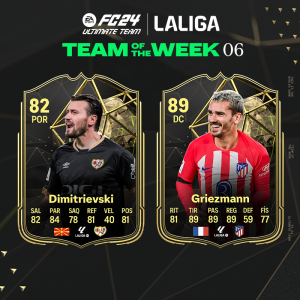 When is TOTW Launched in EA FC 24?
The Team of the Week makes its grand reveal every Wednesday at 19:00 (Spanish Time), 11:00 (Mexican Time). Eager fans can catch the official announcement on EA Sports' official X account.
From all across Europe spanning to North America's top flights: Club football's return is well represented in Team of the Week 6.

Live now in #FC24 Ultimate Team. pic.twitter.com/McCIY3JYoX

— EA SPORTS FC (@EASPORTSFC) October 25, 2023
Should You Invest in TOTW 6 Cards?
Looking at this week's offerings, the cards might not immediately pique everyone's interest. While Griezmann boasts an IF card, he had already been graced with a Trailblazers version. Thus, what we've gotten in TOTW isn't even peak Griezmann. However, Leon Goretzka's card stands out as potentially one of the more captivating picks for this week.
Keep an Eye in the Players Evolve!
While the allure of new cards every week is hard to resist, strategic players will weigh the benefits of each card against its cost. Given the availability of better versions of some players and the ever-evolving nature of the game, staying informed and making educated decisions can lead to a stronger Ultimate Team in the long run.