During the first week of the VTC Americas, the audience has shown that many people love to watch VALORANT tournaments. It has only been one week since the tournament started, and the number of viewers is almost double that of the EMEA competition.
The VALORANT community has welcomed the month of April in the best possible way. During the last three days of March and the first week of April, all VALORANT fans have been able to experience endless emotions with the three major competitions of the VALORANT Champions Tour such as:
The three regions started and premised the long-awaited and renewed VALORANT competitive ecosystem. After the first week, the leaderboards of the regions above start to take shape.
Unlike the Americas, the Europe and Pacific regions have already completed two rounds, so fans of the game are already getting an idea of what the standings will look like. However, we will not focus on the results of each region's rounds; instead, we will discuss the viewership figures.
The first week's statistics for each region have recently been made public; one of these figures has been a big surprise. According to Esports Charts data, the VCT Americas had many more viewership spikes than the other two tournaments.
The American tournament almost doubles the European tournament
Thanks to the data published by Esports Charts, the VCT Americas has had a better start than the European tournament in this new VALORANT ecosystem. Currently, the American tournament has the participation of great teams from the world competitive scene; among them are:
LOUD, who are the current world champions.
KRÜ
Sentinels
Leviathan
Thanks to these teams, the attractiveness of the American tournament has increased since all the game fans want to see how the battles between the big ones are. As a result, the VCT of the Americas recorded its highest peak of 407 thousand simultaneous viewers. This peak came during the Sentinels vs. 100 Thieves match, which was the first battle of the tournament.
The confrontation between the North American teams captured the attention of almost half a million viewers. However, the second day's match between LOUD and MIBR took second place, reaching 338,910 simultaneous viewers.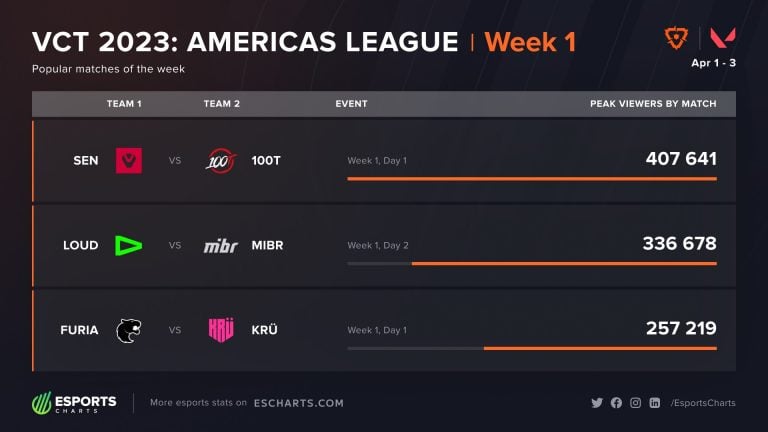 For the EMEA and Pacific tournaments, the best viewership results were far behind the Top 1 and 2 in the Americas. However, in the European region, the match with the most viewers was between BBL Esports and Karmine Corp, where a maximum of 288,816 viewers were registered. Once again, BBL Esports is among the most watched matches, but this time it is against Fnatic, where a peak of 288,669 viewers was recorded. A little further back is a clash between KOI and NAVI with 270,258 viewers.