The duo with the most games together in Dota 2 is splitting up after more than 1,700 games together. The news comes after the team had failed to qualify for IT.
Dota 2's longest-running duo splits after more than 1,700 games together
After a disappointing performance by Team Aster at the Bali Major, the team was forced to make changes to the roster. Due to the changes in the team, Ye "BoBoKa" Zhibiao has been dismissed from the organization after being part of the staff for almost five years. But that's not all. Due to that dismissal, BoBoKa is separated from Lin "Xxs" Jing. These two teammates form the oldest duo in Dota 2 history.
BoBoKa's dismissal from Team Aster
The news of BoBoKa's dismissal was announced yesterday, July 7, via the Chinese social network Weibo. According to the information published by the team, the organization held a meeting with the players to negotiate before making the decision. In addition, it has been announced that Hu "Kaka" Liangzhi is in charge of replacing BoBoKa in the team.
KaKa is a veteran of Dota 2. This player in December will be 10 years playing professionally. The veteran had taken a short break earlier this year but reappeared in April to play with Xtreme Gaming in the Dota Pro Circuit Tour Two.
On the other hand, Team Aster comments that the decision to change the team was made after the early elimination from the Bali Major. Due to this elimination, Team Aster was left out of The International 2023.
BoBoKa and Xxs the most veteran duo in Dota 2
BoBoKa and Xxs have participated in every Team Aster's contested games. According to DatDota, that's 1,037 games. It is important to note that the two players have been team members since its founding in 2018.
Now, this duo has a much longer history. BoBoKa and Xxs' story began three years earlier when the two players were part of Team DK. DatDota data shows this pair has played 1,755 games during 8 eights together.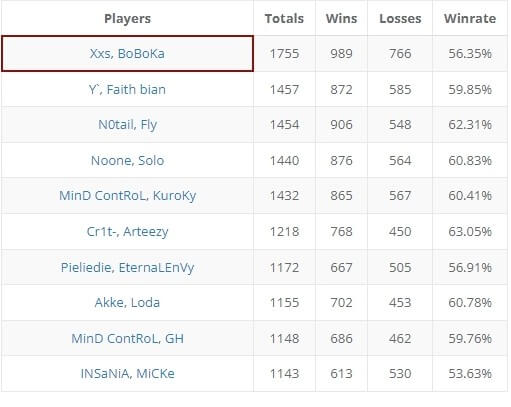 After leaving Team DK at the end of 2015, the players joined Invictus Gaming. A year later, this pair of players managed to win their first IT title at the Dota 2 Asia Championships.
Now, BoBoKa and Xxs wearing the Team Aster jersey have managed to qualify for four TI; the best performance was in 2022 when the team got position 4. With BoBoKa's departure from the team, Xxs must adapt to a life without his criminal partner.