Dota 2, with its exponential growth in the gaming world, requires not only strategic skills but also machinery that allows you to experience it uninterrupted. Here we unveil the essentials to enjoy it to the fullest.
Dota 2: A Giant Among Video Games
There's no doubt, Dota 2 has positioned itself as one of the titans in the video game industry. With around 42.9 million players globally, the need for fluid gameplay is more critical than ever. But how can we ensure our match is not affected by the dreaded lag?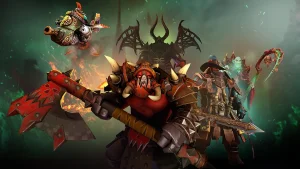 Essential Requirements for Your Device
If you're determined to dive into the Dota 2 universe, it's vital that your device is up to the task. Here we detail the essential technical specifications to ensure an unparalleled experience:
Operating System: Windows 7 or later versions are required.
Processor: An Intel or AMD dual-core with a power of 2.8 GHz will suffice.
Memory: 8 GB of RAM is the minimum, ensuring smooth gameplay.
Graphics: The NVIDIA GeForce 8600/9600GT or ATI/AMD Radeon HD2600/3600 cards are ideal.
DirectX: Version 11 is crucial for optimizing graphics.
Connection: A broadband internet connection is essential, and if it's via an Ethernet cable, even better.
Storage: Be prepared to reserve at least 60 GB on your hard drive.
Tips for an Uninterrupted Experience
Beyond the technical requirements, there are other considerations to bear in mind:
Keep your drivers updated: Ensure that your graphics card drivers are up to date.
Optimize the game settings: Within Dota 2, you can adjust graphics and other aspects to suit your device's capabilities.
Avoid background programs: Closing applications that consume bandwidth or resources can make a difference.
Check your device's temperature: Overheating can affect performance.
Here you'll find more information about Dota 2 updates and improvements, and this link lets you measure your connection speed.
Final Recommendations
Dota 2 is more than a game; it's an experience. To enjoy it to the fullest, you must not only have skill and strategy but also an optimized device. Research, update, and above all, stay informed about the game's news and technical recommendations.