The start of The International 2023 heralds a new era in Dota2 esports history. With the participation of the world's leading teams, the tournament promises to be an unforgettable battle. Here, we offer you a deep analysis of each group, highlighting their strengths, challenges, and what to expect from them in the tournament.
Group A: CIS Dominance and International Hopes
This group is perhaps one of the most balanced. Team Spirit emerges as the giant, especially after their victories in the Riyadh Masters 2023 and the ESL DreamLeague Season 21. Their mastery of the current meta and adaptability make them favorites, but every giant has its Achilles' heel. If they don't quickly adapt to their opponents' strategies, they could find themselves in trouble.
9Pandas, despite the recent loss of their coach, have shown to be a resilient team. With versatile gameplay and dedicated players, they might be the group's surprise. Team SMG holds an ace up their sleeve with players like MinD_ContRoL and No[o]ne; their experience is vital and could be the differential factor. Meanwhile, Evil Geniuses and Entity have much to prove and could capitalize on any slip-ups from their rivals.
Group B: Rebels, Spirits, and Liquids
Shopify Rebellion has made a mark on the scene, proving to be more than just a revelation. While they shone in DreamLeague Season 21, TI is a different level, and they must prove it wasn't a fluke. BetBoom Team, on the other hand, has the talent and skill to face any opponent, but they need to maintain cohesion to stand out.
Team Liquid is a wildcard. Despite recent ups and downs, nobody can underestimate a team with so much history and talent. With players like Nisha, their performance could define the team's fate in the tournament.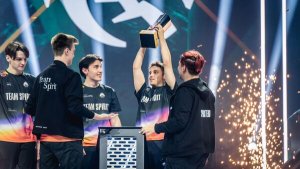 Group C: Gladiators, Dragons, and Bears
Gaimin Gladiators have showcased superior gameplay in previous seasons, but face the challenge of maintaining that level in TI. They're known for adapting well to any game scenario and always have a draft ace. On the other hand, LGD seeks to regain its former glory. While they're not this year's favorites, they have the talent and experience to surprise.
Virtus.pro finds itself in an interesting position. While not seen as favorites, their unique style and ability to exploit opponents' weaknesses could be crucial to advance in the tournament.
Group D: Diversity of Styles and Strategies
TSM and Keyd Stars might have a tough road in this group, but Dota 2 is unpredictable, and any team has the chance to shine. Talon Esports has positioned itself as the best in Southeast Asia, surprising many with its consistent play and innovative strategies.
Quest Esports is a formidable team, especially in the TI qualifiers. With a coach like Daxak, they have the strategy and leadership to face any challenge. Tundra Esports, on the other hand, seeks to defend their title. Even though they've had lineup changes, players like Topson could make a difference.
Don't miss Anything!
The International 2023 will be a tournament full of surprises, strategies, and epic battles. Each team has its own story and strengths. One thing is for sure: as spectators, we are in for an unparalleled spectacle.