Cyberpunk 2077 has undoubtedly become one of the talking points in the gaming industry. Despite its rocky start, CD Projekt has shown immense dedication to its player base by frequently pushing out patches to fix various issues. Their commitment is evident with the imminent arrival of Patch 2.02. Let's delve deeper into the specifics of this update and what it means for players.
Significant Fixes in Patch 2.02
Skill Progression Tweaks: One of the primary concerns addressed in this update is the skill progression passives. A significant number of players faced the issue where they were not receiving passive buffs corresponding to their skill level advancements. This critical component, ensuring an immersive RPG experience, is now set for rectification.
Courier Mission Timer Rebalance: Another standout feature of the patch is the rebalancing of timers in courier missions. Within the Phantom Liberty expansion, players encountered missions requiring them to move vehicles from the newly introduced Dog Town area to various parts of Night City. However, the given time limits were not consistent with the distances, at times allowing a mere 30 seconds to traverse the vast expanse of Night City.
Additional Key Fixes in the Update
Players can now seamlessly enter the Delamain AV in Path of Glory without the fear of V flatlining.
The entry to Black Sapphire in Run This Town is no longer obstructed by shutters.
A glitch causing cyberware to downgrade to Tier 1 post the 2.01 game update will be resolved.
Unresolved Issues and Upcoming Fixes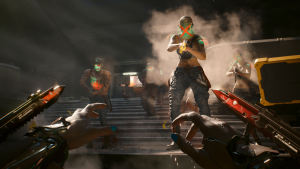 While the 2.02 patch is expected to address a plethora of issues, certain challenges still need tackling. Notably, Xbox Series gamers have reported not receiving the Phantom Liberty preorder bonus – the Quadra Sport R-7 Vigilante. Both CD Projekt and Microsoft have taken note of this and are working tirelessly to release a fix as swiftly as possible.
Phantom Liberty: An Overview
The Phantom Liberty expansion, which debuted on September 26, acted as a foundation for the 2.0 update. It rejuvenated Cyberpunk 2077 by introducing features such as an enhanced perk system, refined AI, and new storylines. Notably, it debunked an Elon Musk fan theory, paid homage to the legendary racer Ken Block, and brought unforeseen elements to the game's central enigma.
Interestingly, CD Projekt has empowered players with the choice of bypassing the events of the paid expansion. Some dialogue options, when selected, can permanently lock away certain missions.
In conclusion, IGN's commendation of the Phantom Liberty expansion and the 2.0 update illustrates CD Projekt Red's incredible journey in refining Cyberpunk 2077.
Stay Tuned for all the News
For passionate Cyberpunk 2077 enthusiasts, it's evident that CD Projekt is genuinely dedicated to refining the gameplay experience. As with all updates, it's recommended to [check the official site] periodically for the latest updates. Also, diving into communities like [Reddit's Cyberpunk forum](https://www.reddit.com/r/cyberpunkgame/ "Reddit Cyberpunk Forum") can provide firsthand feedback from players who've experienced the changes firsthand.