Since it was officially announced that Valve would release Counter-Strike 2, the gaming community has eagerly awaited its arrival. It can be said that the question gamers are asking the most is when will the full game be released.
Remember that gamers have been waiting for a couple of months for the full release. The community has been waiting to say goodbye to CS:GO and welcome CS2 since the game developers launched the beta version in March.
It's safe to say that Valve has been keeping the details of the game's release tightly under wraps since the beta launch. Valve has stated that the first Major of Counter-Strike 2 will be played in Copenhagen, Denmark, in 2024. Most of the information we know about the new game is through leakers or some patches released in the beta version of CS2.
CS2 release could be coming very soon
After many months of uncertainty, it seems that the release of CS2 will come very soon. Yesterday, September 13, Valve revealed on Steam's 20th anniversary page that CS2 will be released soon.
It is important to note that this is the first time Valve has announced the arrival of CS2. Previously, Valve had only announced that the game would arrive in the summer of 2023. Now, considering that Valve is located in Seattle, and summer in the United States ends on September 23, it is likely that this is the date of the game's release.
Although the community has conjectured many probable dates for the game's release, it is still unknown when the full version of CS2 will finally arrive. However, that message from Valve has made gamers think that CS2 is just around the corner.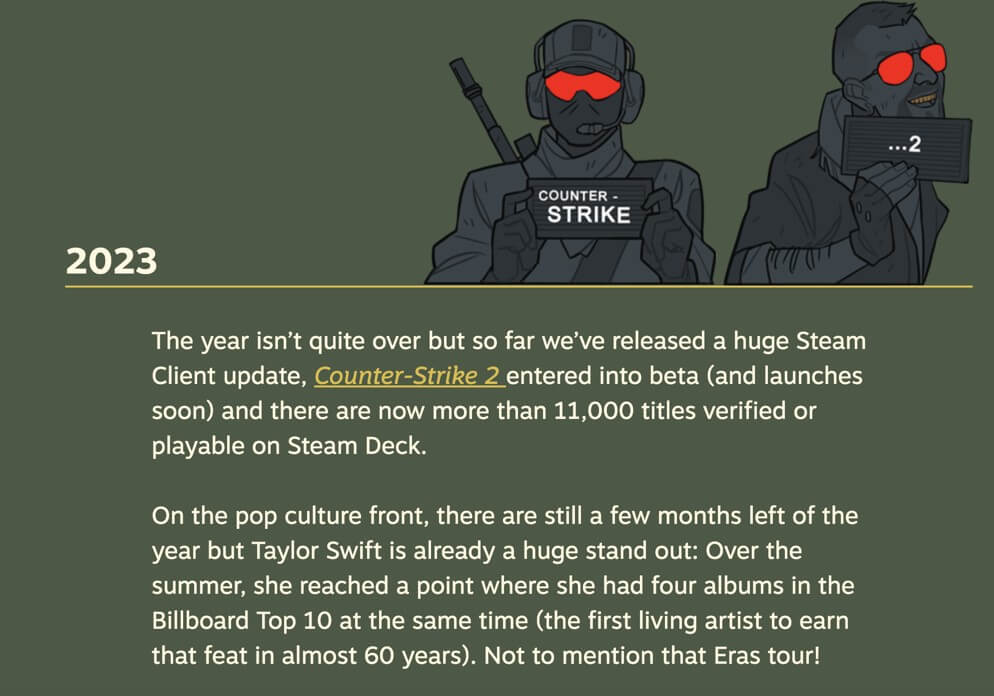 Frequent updates of the CS2 beta test
The CS2 developers have taken it upon themselves to update the beta test constantly. The first beta update included Dust 2. However, as the days went by, Valve added different maps. For example, Mirage arrived on June 6, and then on July 17, Overpass arrived. On August 6, the Anubis map and the Ancient map were included; finally, Inferno arrived on August 31. The last two maps, Cobblestone and Train, have yet to arrive in the game.
It is important to note that every time a new map came to the game, it had some problems. However, the developers have solved each problem in the CS2 beta.
On the other hand, in the constant updates, Valve has also unveiled outstanding features of CS2. For example, we learned about the buyback option at the beginning of rounds and swappable loaders. Then, we learned that the number of rounds had decreased from 30 rounds to 24 rounds. In the last update, valve added a new matchmaking system, where thousands of new players were included in the beta test.