Digital collecting culture has reached new heights, and at the center of this wave are skins from popular games like Counter-Strike: Global Offensive (CS:GO). However, certain digital items transcend their own fame, reaching legendary status. One such item is a knife, an object that was not sold even after receiving a seven-figure offer.
Ohnepixel and the Million Euro Transaction
Ohnepixel, a renowned Counter-Strike content creator and skin collector, played a significant role in the narrative of this iconic knife. Thanks to his prominent position within the community, he's often approached to act as an intermediary in high-caliber transactions. This is how, about two years ago, an enthusiast proposed to him to relay an offer of 1.2 million euros in Bitcoin for one of the game's rarest skins.
The Skin that is Priceless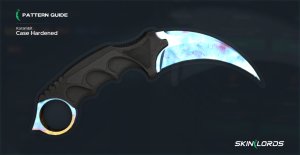 While one might think that 1.2 million euros is an impressive figure, the owner of the skin deemed the offer insufficient. It's vital to highlight the rarity of the item in question: a Karambit Case Hardened Knife, with the exclusive "Factory New" condition and pattern 387. This knife is not only rare, but it's one-of-a-kind in the world.
Given the probability of obtaining this skin, estimated at one in a million, its value cannot be determined merely by its rarity. Moreover, considering the cost to try and acquire it, which stands at 4.5 euros per case, the 1.2 million euro offer might seem, in retrospect, a bargain.
The Rise of Skins in the Market
The CS:GO skin market has been on an upward trend in recent months, signaling a general increase in the value of these coveted digital items. According to experts, interest and demand for these skins continue to grow, which could potentially make the value of this particular skin even higher in the future.
Final Recommendations
For collectors and enthusiasts, this knife represents more than just a digital item: it's a piece of CS:GO history. As the world of skins continues to evolve, it's essential to stay informed and, perhaps, be willing to pay the price for a unique piece.