Introduction to MW3's Inaugural Patch
Modern Warfare 3 makes a formidable entrance with Sledgehammer Games releasing detailed patch notes for its launch. This update brings a plethora of improvements, including significant weapon tuning, map updates, and gameplay enhancements.
Campaign Adjustments: Stability and Performance
Offline play is now seamless post initial Activision account setup.
Save data integrity checks improved, with checkpoint loading errors resolved.
Menu navigation UI crashes addressed.
Several mission loading crash fixes implemented.
Initial title splash loading times optimized.
Melee death animation stutters fixed.
Low-quality asset loading graphical glitch corrected.
Gameplay Bug Fixes
Audio bugs affecting volume, skipping, and missing dialogues in scenes rectified.
Exploits involving vehicles and helicopters to access out-of-map areas patched.
Enemy AI cover behavior adjusted for realism.
Involuntary equipment selection resets fixed.
M4 silenced optics and Cronen Squad scope switching issues resolved.
Gas and Equipment damage immunity bug fixed.
Supply Boxes now open as intended on first attempt.
Missing weapons in orange Supply Boxes issue corrected.
Environmental clipping of enemies during death or combat fixed.
Crouch-only area warning message improved.
Multiplayer Enhancements: UIX
Visual Changes
Player nameplates now feature an outline for better visibility.
Score event text on HUD adjusted for less obstruction.
New Additions
HUD element displaying player's current streak post-death introduced.
Match event pop-ups now showcase the player's equipped Calling Card.
Skill achievements like King Slayer and Collateral now highlight with a Medal splash on HUD.
Tactical position status now indicated by a HUD widget, replacing previous ADS indication.
In-game Match Stats accessible via a new tab on the Scoreboard for performance comparison.
Bug Corrections
Unexpected prompts for Team selection after multiple rewards acquisition eliminated.
Maps: Strategic Spawning Logic
Spawn anchors added across maps to direct combat flow as designed.
Team Deathmatch now has improved spawn zone favorability and resistance to enemy pressure.
Domination spawns now offer increased resistance to enemy flag pressure for better consistency.
Gameplay: Audible and Tactical Adjustments
Footstep volume differentiation between allies and enemies fine-tuned.
Double-tapping aim down sights (ADS) now activates Tactical Position.
Default Equipment options diversified to include a wider range of content.
Movement
Sprint cancels slide animation.
ADS time penalty post-jump reduced by 20%.
Settings
Double-tapping ADS for Tactical Position added.
New options for Slide/Dive behavior:

Tap for slide disables dive.
Tap for dive disables slide.
Updates to movements, gameplay, and settings in #MW3 pic.twitter.com/Q8KDmSbMK0

— CharlieIntel (@charlieINTEL) November 9, 2023
Weapon and Attachment Changes from MW3's Launch Patch Notes
Assault Rifles
SVA 545

Bullet velocity increased by 19%.
Fire rate boosted from 632 RPM to 682 RPM.
Lower torso damage multiplier enhanced.
Recoil adjusted for less rightward drift.

MTZ-556

Bullet velocity increased by 18%.
Max damage range extended from 23m to 27m.

MCW

Bullet velocity increased by 18%.
Sustained fire recoil increased.
Minimum damage reduced from 24 to 21.
Submachine Guns
Striker

Max damage reduced from 42 to 36.
Various range damage reductions implemented.
ADS time improved slightly.
Light Machine Guns
Holger 26

Bullet velocity increased by 13%.

Pulemyot 762

Max damage reduced from 47 to 45.
Conversion Kits
JAK Annihilator Bullpup

Bullet velocity significantly increased.
Fire rate reduced for balance.
Sniper Rifles
MTZ Interceptor

Bullet velocity and ADS improvements.
Hip-fire spread increased during sustained fire.

Longbow

Bullet velocity and recoil adjustments.
Hip-fire spread increased for movement and sustained fire.

KV Inhibitor

Bullet velocity slightly increased.
Hip-fire spread and enemy fire recoil increased.
Pistols
WSP Stinger

Max damage range and torso damage multiplier reduced.
Hip-fire spread during sustained fire decreased.

Renetti

Burst mode reticle updated.
Slight recoil increase during sustained fire.
Carbine Conversion Kits
JAK Ferocity Carbine

Automatic reticle updated.
ADS and sprint-to-fire times increased.
Perks and Field Upgrades
Demolition Vest

Battle Rage Tactical now replenishes up to 1 use.

Tactical Pads

Slide speed increased, replacing slide distance perk.

Tactical Mask

Added immunity to player's own Flash Grenades.

Trophy System

Drone Killstreak immunity added.

Med Box

Description updated to reflect actual functionality.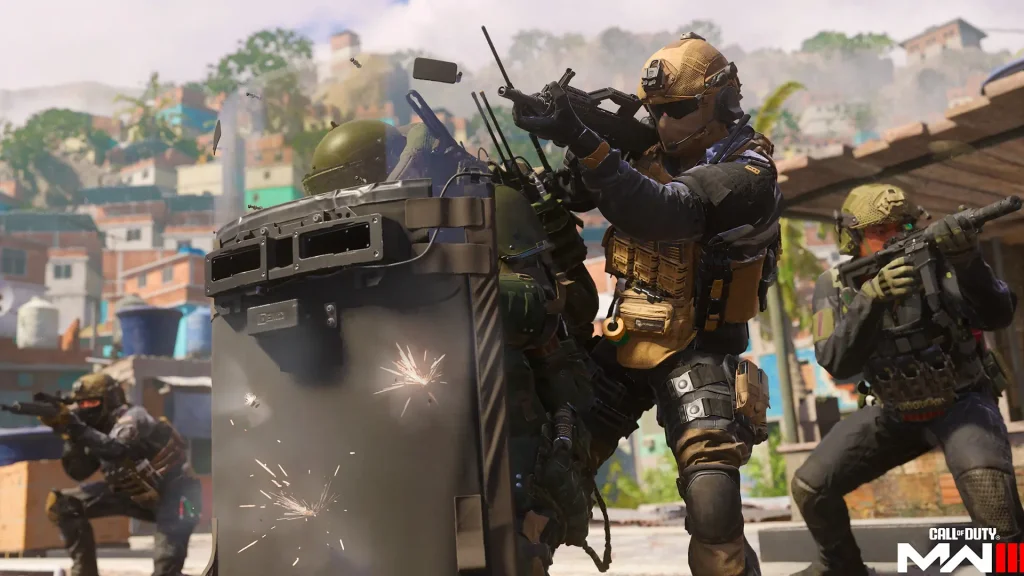 The Essential Guide to Modern Warfare 3's Launch Patch
This patch constitutes a significant step in enhancing Modern Warfare 3's gameplay experience. Keep this guide bookmarked to stay updated with each patch release.