The Call of Duty League (CDL) is gearing up for an electrifying start with the 2024 season following the anticipated release of Modern Warfare 3. This new iteration is expected to breathe fresh life into the franchise, with professional players at the edge of their seats. The CDL 2024 schedule has been confirmed, laying out a roadmap of intense competition for the gaming elite.
The Majors Take Center Stage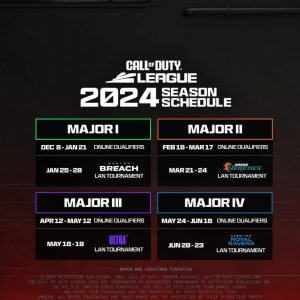 As a highlight of the CDL 2024 schedule, four Majors have been slated, each preceded by an online qualifying period culminating in a LAN event. Here are the pivotal dates:
Major I Qualifiers: December 8 – January 21
Major I: January 26 – 28, hosted by Boston Breach
Major II Qualifiers: February 16 – March 17
Major II: March 21 – 24, hosted by Miami Heretics
Major III Qualifiers: April 12 – May 12
Major III: May 16 – 19, hosted by Toronto Ultra
Major IV Qualifiers: May 24 – June 16
Major IV: June 20 – 23, hosted by Carolina Royal Ravens
Awaiting the Championship Confirmation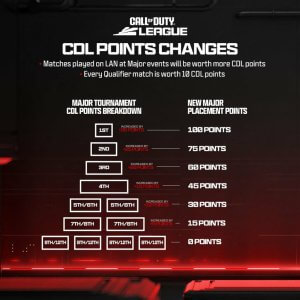 Speculation about the CDL 2024 championship tournament is rife, with rumors pointing towards Texas as a potential venue. However, the details remain shrouded in mystery with no official confirmation in sight.
Qualifier Revamps and Game Modes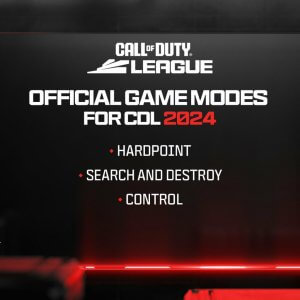 The update to the CDL 2024 schedule also brings an evolution to online qualifiers. Crucially, LAN events will now carry more weight in terms of CDL points. Teams face off in seven matches per qualifier, with Major I and IV spanning four weeks, while Major II and III extend over five weeks.
Fans and players alike can look forward to familiar battlegrounds as the official game modes for CDL 2024 are unveiled: Hardpoint, Search and Destroy, and Control will be the arenas where legends are made.
Mark your Calendar!
The CDL 2024 is not just a series of events; it's a narrative of rivalry, strategy, and the relentless pursuit of glory. With the schedule now set, teams are poised to enter the fray, with each qualifier and Major offering a chance to write a new chapter in the storied legacy of Call of Duty.