The highly anticipated Season 10: 4th Anniversary of Call of Duty Mobile is poised to deliver a blend of nostalgia and novel excitement. Over the past four years, Activision has consistently capped off each year with a celebratory season, and the fourth anniversary is no exception.
This year, the iconic shooter game turns four, and the celebration is set to be substantial with a host of new content as players embark on missions across the enigmatic island of Memnos.
Free Pass Perks: More Than Just a Celebration
The special anniversary Battle Pass introduces free levels packed with rewards. Players can look forward to earning the new Gunship streak, the formidable Bruen MK9 LMG, and an assortment of weapon camouflages and blueprints, ensuring that even those on the free tier have plenty to celebrate.
Premium Pass: Exclusivity and Excitement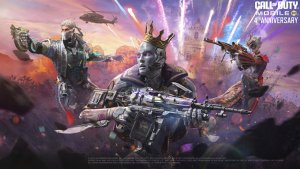 For those holding the Premium Pass, the anniversary heralds exclusive operator skins like Ether – Bird of Paradise, David Mason – Maestro, and Beatrice – Midnighter, alongside unique weapon blueprints, elevating the celebration to new heights of customization and style.
Ground War Mode: A New Tactical Challenge
Ground War Mode debuts with the update, promising high-stakes 16 vs 16 battles on the island of Memnos, split into attackers and defenders. Attackers aim to seize control points, while defenders pull out all the stops to thwart these efforts. With captured points remaining secure, defenders must strategically repel the assault.
Choose Your Battle Class
Players have the option to specialize in one of four classes—Vanguard, Rescue, Infiltrator, or Technician—each offering distinct strategic advantages on the newly designed map. Featuring ancient ruins, modern buildings, and a clandestine base, Memnos Island is CoDM's most expansive multiplayer map to date.
Immersive Solo Mission Prequel
Prior to diving into Ground War: Onslaught, a solo mission awaits players on the island, setting the stage for the anniversary's narrative—a thoughtful touch to deepen engagement with the game's lore.
The Club Returns
Echoing the first-anniversary celebrations, The Club makes a comeback, now boasting new areas like a dance floor and boxing ring. This social hub invites players to unwind, interact with friends and NPCs, and enjoy a variety of minigames, fostering community spirit in between intense combat sessions.
---
New Content for Veteran Players
As we gear up to join the fray in Call of Duty Mobile's Season 10, it's clear that the developers have gone above and beyond to commemorate this milestone. From the free-to-earn rewards to the exclusive content of the Premium Pass, there's something for every combatant in this anniversary season.
With the strategic depth of Ground War and the camaraderie of The Club, Season 10 is set to be a fitting tribute to four years of mobile warfare excellence.