Boston's MGM Music Hall at Fenway to be the epicenter of the esports world as it welcomes the Call of Duty League Major 1 Tournament.
A Pioneering Esports Spectacle in Boston
The vibrant city of Boston, MA, is set to become the focal point of the esports universe with the announcement that Oxygen Esports' franchise, Boston Breach, will play host to the inaugural Major Tournament of the Call of Duty League's 2024 season. This prestigious event is scheduled to unfold at the MGM Music Hall at Fenway from January 24 through January 28, 2024.
Boston Breach: A Tradition of Esports Excellence
Boston Breach, not a novice in the realm of hosting major esports events, is building upon the legacy of the previous year's success. The 2023 season witnessed Boston as a superb host for the League's second Major, setting the stage for an even grander event in 2024.
Partnership with Live Nation
In an exciting collaboration, Boston Breach and event organizing titan Live Nation have joined forces, ensuring that the Major Tournament will offer an unmatched experience for participants and spectators alike.
Anticipation for Record Attendance
With expectations set for an audience of 15,000 visitors, the tournament is anticipated to be the largest esports event Boston has witnessed, marking a new chapter in the city's burgeoning esports story.
Beyond the Major: The Challengers Tournament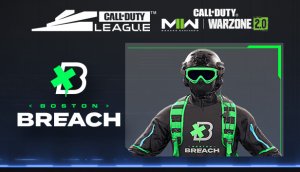 Parallel to the Call of Duty League Major 1, the Call of Duty Challengers Tournament will also be taking place, hosted at the Citizen's House of Blues Boston. Here, 96 teams will vie for glory and a share of the $75,000 prize pool.
A Statement from Oxygen Esports Leadership
Murph Vandervelde, President and Co-founder of Oxygen Esports, expressed his enthusiasm:
"Oxygen Esports and Boston Breach are cementing Boston's reputation as an esports hub. This Major Tournament not only bolsters our standing but also promises an electrifying weekend packed with action for both the esports aficionado and the newly initiated."
Boston's Esports Landscape
Oxygen Esports, the owner of Boston Breach, boasts ownership across multiple esports leagues, including Boston Uprising in the Overwatch League. Since merging with Boston Uprising in 2021 and acquiring the Call of Duty League spot, the organization has seen significant success, highlighted by Boston Breach's third-place finish in the CoD League 2022 Stage 2 Major.
The Rising Tide of Esports in New England
Boston's commitment to esports is ever-growing, with the city positioning itself as a nexus for digital sporting events. The Call of Duty League Major 1 is just a glimpse into the potential that the region holds for the future of competitive gaming.