The buzz in the gaming world has been rife with anticipation. It's that time of year again when Blizzard unveils its grand plan for the upcoming seasons. Blizzcon, the event that captures the attention of millions of gamers worldwide, is returning with a bang in 2023. It's not just another event; it's a pilgrimage for the true fans of Blizzard games.
Blizzcon 2023: A Return to the Limelight
Blizzcon 2023 signals a return to in-person experiences, a throwback to the times before the pandemic changed the global landscape. Scheduled for the 3rd and 4th of November, the event finds its home in Anaheim, California. Thousands of ardent fans will flock to the venue, eager to get a glimpse of what's in store from their favorite gaming giant.
The Main Event: What's Brewing?
The inaugural ceremony is the main highlight, scheduled for 7 pm Spanish time on November 3rd. This is where the magic happens: significant announcements, tantalizing trailers, and the future trajectory of Blizzard's famed franchises.
This year, World of Warcraft and Overwatch 2 steal the limelight. With three different panels dedicated to World of Warcraft and two for Overwatch 2, it's evident that these two franchises are Blizzard's current focus. Fans are speculating about a potential new hero for Overwatch 2 and the direction the MMO might take in the upcoming sessions.
However, it's not just about these two. Other fan-favorites like Diablo 4 and Hearthstone also get a nod, albeit with a comparatively lower profile this time around, each having two panels. The reasoning behind this decision remains shrouded in mystery, but fans anticipate some updates regarding the two games.
Speculations and Expectations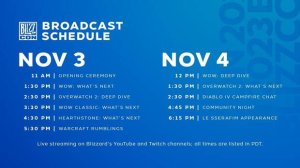 For World of Warcraft enthusiasts, the event might shed some light on the upcoming expansion expected to drop in 2024. Details have been scarce, and the Blizzcon platform could be the perfect stage for a grand reveal.
The Diablo 4 saga also offers a plate full of possibilities. With its recent launch and the regular stream of information, Blizzard might be shifting its attention elsewhere. But the question on everyone's lips is about the first expansion set for 2024. Will there be a sneak peek? Only time will tell.
The Future of the Fanchise
Blizzcon 2023 promises a tantalizing glimpse into the future of some of the most beloved game franchises. Whether you're a die-hard fan or a casual gamer, this is an event that promises to deliver. So, mark your calendars and brace yourself for an immersive experience.