The Rainbow Six Siege esports scene, now under BLAST's management since the beginning of 2023, experienced a significant dip in popularity at the BLAST R6 Major Atlanta 2023. The event recorded a peak viewership of just under 80,000, a stark contrast to previous years.
Comparing Viewership Numbers
BLAST's first foray into Rainbow Six Siege Majors, the BLAST R6 Major Copenhagen 2023, earlier this year, peaked at 118,877 viewers. However, the record for the most-watched Rainbow Six Siege Major remains with the Six Major Raleigh 2019, attracting a massive 268,650 spectators.
The Shift in Tournament Management
Previously managed by ESL FACEIT, BLAST's takeover of Ubisoft's Rainbow Six Siege esports brought changes in the competition's ecosystem and Major format. The introduction of a Play-In stage and Swiss-style elimination rounds marked a departure from the traditional Round Robin group phase.
BLAST R6 Major Atlanta 2023: The Winners and the Viewers
Brazilian organization W7M esports triumphed over LOS in the Grand Final, securing a large share of the $750,000 prize pool. Interestingly, LOS garnered more viewer hours, making them the most popular team of the tournament.
Viewer Demographics: Twitch vs. YouTube
Most of the event's audience tuned in via Twitch, with a smaller segment preferring YouTube. Despite both finalists being Brazilian teams, English-language platforms attracted more viewers than Portuguese ones.
Ubisoft's New Release: Operation Deep Freeze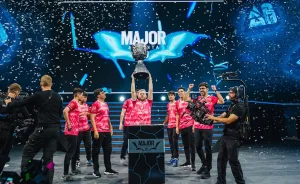 One of the highlights of the event was Ubisoft's reveal of Operation: Deep Freeze for Rainbow Six Siege. This segment was the third most-viewed part of the Major, following the Grand Final, which attracted 79,867 viewers.
The Bigger Picture: Rainbow Six Siege's Audience Trend
The BLAST R6 Major Atlanta 2023's viewership drop mirrors the decline seen during the online regional Majors in the pandemic. Yet, despite this downturn, the average audience numbers align with last year's figures.
Call for Attention for Future Events
While the BLAST R6 Major Atlanta 2023 didn't meet previous viewership highs, it reflects evolving trends in the esports landscape. The focus now shifts to how BLAST and Ubisoft will adapt to maintain and grow the Rainbow Six Siege audience in future events.