The eSports world is bursting with adrenaline and surprises, and The International 2023 is no exception. As we approach the climax of the tournament, each match becomes more vital and electrifying.
Tournament Background
The elimination process in The International is unforgiving. After the first stage, the lowest-performing team from each group had to say their goodbyes. Now, we are at the second phase, and things are heating up even more: teams that secured the top two spots will face off against those who finished 3rd and 4th. The prize: a coveted spot in the upper bracket of the playoffs.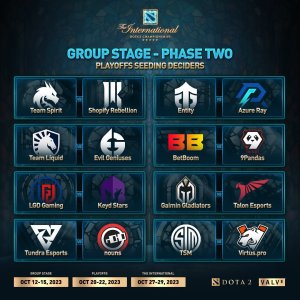 Upcoming Matchups
Team Spirit vs Shopify Rebellion: Two titans collide in a match that promises to be unforgettable. Both teams have proven their worth and are eager to secure their spot.
9Pandas vs BetBoom Team: This is the matchup that has everyone on the edge of their seats. 9Pandas, a team that has taken many by surprise with their skill, will go head-to-head against BetBoom, a team renowned for their strategy and precision.
Virtus.pro vs TSM: Both teams have loyal fan bases and have proven to be worthy opponents in the past. It's a clash of giants that no one will want to miss.
These playoff face-offs will take place on October 14 and 15 and will be best-of-three matches. Winners will soar to the upper bracket, while those who fall will get a second shot in the lower bracket.
Predictions for 9Pandas vs BetBoom
There's no denying that the matchup between 9Pandas and BetBoom Team is one of the most anticipated. The journey of both teams has been notable, and this match will decide who has what it takes to move on to the elite group. While 9Pandas has shown themselves to be a formidable force, BetBoom brings experience and strategy to the table. You can bet for your favourite team in the 22Bet official site!
A New TI Champion is Coming!
The tension is high, and the anticipation is through the roof. Teams are putting their best foot forward to secure their position in the upper bracket. As spectators, all we can do is support our favorite teams and enjoy the show. Don't miss out on these pivotal matchups and get ready for some of the best moments in Dota2 esports history.