G2 Esports: A Fortunate Twist in the Worlds Draw
The elimination rounds have begun, and teams are pulling out all stops to ensure they stay in contention. G2 Esports stands as one of the notable beneficiaries of the recent draw, marking their clash against NRG in the journey to the best-of-five matches.
Team BDS: A Valiant Effort Comes to an End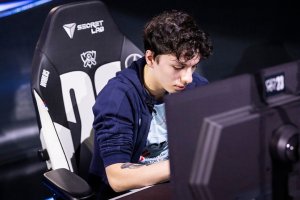 The Swiss team, Team BDS, faced a challenging matchup against the formidable Dplus Kia. Unfortunately, the former found themselves outplayed in both maps of the eliminatorial. A stark contrast in gameplay was evident, with Dplus Kia showing no mercy and giving their player, Deft, the perfect birthday gift by securing their spot in the upcoming rounds.
Dplus Kia's Stellar Performance: The Birthday Gift for Deft
Team BDS's game plan seemed out of sync against their South Korean opponents. Their decision to pick Volibear did little to contain Rumble, who had what can only be described as a free rein throughout the game. The bot lane too saw significant dominance from the South Korean side, with turrets and plates being taken effortlessly. This commanding performance ensured Deft had a birthday to remember, making him the lone player set to defend the title after Team Liquid's earlier exit against GAM Esports.
Adam's Unique Playstyle: An Unexpected Champion Pool Wins Hearts
HUPU Esports, a renowned Chinese portal with an English section, often sees its community rating players based on their in-game performances. Amidst Team BDS's exit, one shining beacon was their player, Adam. His unconventional champion pool, featuring non-meta selections typical of SoloQ, like Darius and Olaf, garnered him significant admiration. The acronym GODS (Garen, Olaf, Darius, and Sett) was coined, reflecting his distinctive choices. Several heartwarming comments flooded in, thanking Adam for bringing unique champions to the World stage and reigniting passion for the game.
HUPU community on Adam's @Ricadam_lol run at #Worlds2023 :

"Thank you for taking champions that we usually play in games to Worlds."

"Maybe the gap is real, but thank you for letting us to get back the passion and love for this game."

"My friend, you are the real hero."#LEC pic.twitter.com/ip7Ky2dyUW

— HUPU Esports (@HupuEsports) October 23, 2023
A Silver Lining for Team BDS: Reflection on Their Worlds Journey
Despite their exit, Team BDS has a journey worth reminiscing. They showcased resilience after a shaky start in the Play-In stages. Their nerve-wracking faceoff against PSG Talon in the best-of-five series was a testament to their grit and determination. It's a journey they can undoubtedly take pride in.
Upcoming Challenge for Dplus KIA: The Faceoff with GAM Esports
Dplus KIA isn't resting on their laurels. Their next challenge lies in facing another team that made their mark from the preliminary stages, GAM Esports. This matchup promises to be an intriguing one, with both teams having showcased their prowess in the lead-up to this clash.
The People´s Player
The League of Legends esports Worlds 2023 journey is filled with unexpected turns, stellar performances, and heartwarming stories. Players like Adam remind us that passion and uniqueness can shine even in defeat. As the competition intensifies, it will be fascinating to see which team ultimately stands tall, claiming the coveted title.