xQc's $100 million contract has generated a lot of controversy, with many people supporting the streamer's decision while others criticize it. Even major figures in the streaming world have commented on the contract, which has generated conflict between Amouranth and Pokimane.
Amouranth criticizes Pokimane for his comments on xQc's contract with Kick
Amouranth has recently criticized Pokimane; she claims that Pokimane is only getting involved in the debate of xQc's contract signing with Kick to get attention. According to Amouranth, Pokimane is desperate to regain relevance and influence.
These comments from Amouranth came after Pokimane made strong statements on his Twitch.tv stream yesterday, June 21. Pokimane, in her broadcast, has commented that she would never join Kick, assuring that no matter how much money she is offered in the contract. Pokimane claims that she would never sacrifice her principles or ethics to earn more money by joining a platform strongly linked to an online casino.
Reactions to Pokimane's comments
Pokimane's comments have caught the attention of many people, especially that of xQc. On the same day, xQc, in a broadcast, claims that Pokimane implies that he and Amouranth, who has also signed a contract with Kick, are responsible for that.
The controversy did not end at that moment. During the same xQc broadcast, Pokimane calls him to deny his claims and explain that his intentions were not that. However, that call from Pokimane to xQc has not convinced Amournath; she thinks that Pokimane has only engaged in this conversation to draw attention to himself. Amournath claims Pokimane's reason for talking about the xQc contract is to become relevant again and regain influence; he has none now.
Then, Amouranth accused Pokimane of wanting to get involved in the controversy to be part of the topic and gain views. In addition, Amouranth comments that this is a "smart" strategy on Pokimane's part; this way, she can gain many views without having to do so many retransmissions and dedicate herself to traveling around the world.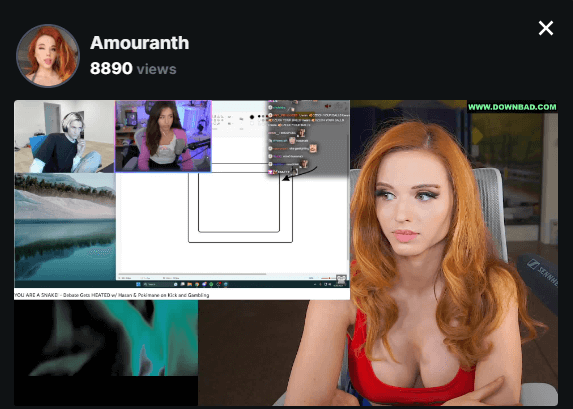 On the other hand, Amouranth comments that with these comments, she does not intend to be mean to Pokimane and ends by saying that she is sure that this is Pokimane's real reason for getting involved in this topic.
Unlike Amouranth, xQc was more friendly with Pokimane. xQc has commented that Pokimane's argument makes sense; however, how he has said it implies that he and other streamers are wrong with their decision to be on Kick.