The vibrant city of Mexico witnessed the birth of the Américas Kings League Santander, slated to kick-off in January 2024. This league promises fierce competition, with 12 powerhouse teams led by celebrated streamers, sports figures, and celebrities of the Hispanic world. Their journey, culminating in gripping playoffs, will see them vie for the coveted championship crown.
Star-Studded Team Ownership
Unveiled during its inaugural event, the league paraded its team presidents, complete with their team emblems. Notable figures like footballers Chicharito Hernández and James Rodríguez, YouTube sensation Germán Garmendia, and singing maestro Arcángel, are now proud owners. Spearheading the initiative is the esteemed Mexican international, Miguel Layún.
A Unified Vision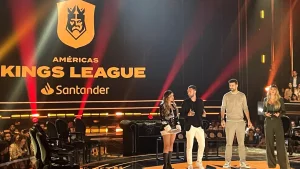 Top brass from the Kings League, including Gerard Piqué and Oriol Querol, graced the event, where mutual rivalries and camaraderies began to bloom between teams across both leagues.
"We are thrilled to be a part of this historic moment in the realms of sports and entertainment in America. The Américas Kings League Santander promises football that's fresh, exhilarating, and packed with surprises," remarked Miguel Layún, the league's president.
Marc Crosas, the league's competition director, added, "The unpredictable nature of matches, owing to our unique rules, ensures that only the most adaptive and dedicated players shine on the field."
How to Catch the Action
Fans can catch the action live on the official channels, and also enjoy reactions from the team presidents on their respective platforms.
The league will uphold the popular format from its Spanish counterpart, where every Sunday will host a series of short, high-octane 7-a-side football matches, ensuring maximum entertainment. The classic draft and players 11 and 12 will remain integral to the new league, ensuring consistent high-quality coverage.
Stay Connected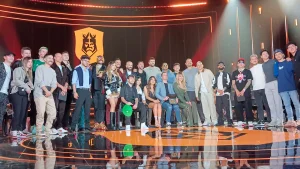 For the latest updates, followers can tune into Américas Kings League Santander on Twitch, Instagram, Twitter, and YouTube. Registrations are open on kingsleague.pro for aspiring players and casters to join the Kings universe.
Spotlight on Team Presidents
Germán Garmendia of Real Titán promises dynamic gameplay, ensuring a show for the fans.
Chicharito Hernández's Olimpo United is expected to keep the scoreboard ticking with his offensive prowess.
Co-presidents Futbolitos and Alofoke helm Los Galácticos del Caribe, bringing a unique playstyle from the Dominican Republic.
Escorpión Dorado and Gabriel Montiel have unveiled Peluche Caligari, promising unrestrained fun.
Westcol and Arcángel lead West Santos FC, vowing to break through any defense.
Mercedes Roa and Rivaldios lead Club de Cuervos, with an unwavering commitment to soaring to the top.
Jero Freixas of Muchachos FC aims to make fans' dreams come true from Argentina.
James Rodríguez and Pelicanger are at the helm of Atlético Parceros, combining football brilliance with content creation magic.
Zeein leads Persas FC, promising top-tier gameplay from Peru.
Power couple Alana and Barca lead Raniza FC, ready to leap over every challenge.
Castro of Los Aliens is set to bring the trophy home to the US.
Donato, a passionate gamer and football enthusiast, leads Los Chamos FC, bringing a competitive spirit.
A Large Audience is Expected to Accompany!
The Américas Kings League Santander is not just a football league; it's a revolution, a blend of entertainment and sports. With the star-studded line-up and unpredictable gameplay, fans are in for a thrilling season.