The ESC 2023-2024 season's Rocket League segment has reached its climax, with Akron emerging as the champion, continuing their dominance in the esports collegiate arena. Meanwhile, the VALORANT competition is heating up with the quarterfinals underway.
Championship Showdown: Ball State vs. Akron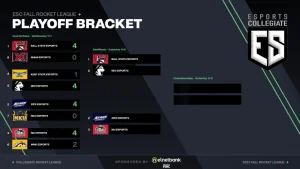 Matchup: Undefeated #1 seed Ball State faced off against the #2 seed Akron, a team with a formidable record and aspirations of a fourth consecutive title.
Outcome: Akron, showcasing formidable skills and strategy, swept Ball State to secure their fourth straight ESC Championship.
Game-by-Game Breakdown
Game 1: Akron set a strong pace with an 8-4 victory, signaling their intent right from the start.
Game 2: The Zips continued their dominance, sealing the game with a 4-0 win, thanks to Patty's outstanding 11-goal performance in the series.
Game 3: Despite a closer contest, Akron edged out Ball State 3-2, moving them to championship point.
Game 4: Akron clinched the title with a 4-2 win, denying Ball State the chance to maintain their perfect record.
Akron: A Legacy in ESC Rocket League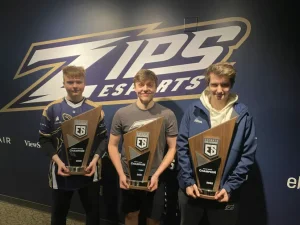 The Akron Zips have solidified their status as a dynasty within the ESC, achieving an unprecedented four consecutive championships since the inception of the Esports Collegiate Conference. Their consistent performance highlights their dominance in the collegiate Rocket League scene.
Looking Forward: Akron in CECC
Previous Performance: Last year, the Zips represented well at the Collegiate Esports Commissioners Cup (CECC) Finals, finishing as runners-up to Northwood University.
Future Prospects: With another ESC Championship under their belt, Akron is poised for a strong showing at this year's CECC.
Concluding Remarks: Akron's Continued Excellence
Akron's triumph in the ESC 2023-2024 Rocket League Championship is a testament to their enduring excellence and strategic prowess in collegiate esports. As they gear up for their next challenge at the CECC, the esports community eagerly anticipates their performance on this larger stage.